A new approach
This year, we embarked upon a new approach for developing our operational plan, in tandem with our financial and workforce plans. We will continue to develop this throughout 2019–2020. As this approach matures, it will enable us to rebalance our overall programme of work so that it best reflects the needs of health and social care services across Scotland and those of the people who use them.

In our operational plan for 2018–2019 we explained that our financial outlook will require us to make tougher choices about priorities and how we balance the demands for our input with the resources available to us. The integration of our operational, workforce and financial plans and the establishing of our internal and strategic change programmes is ensuring that we align priorities with the necessary expertise and the financial resources required to make care better.

Change Programmes in 2019–2020
To underpin the delivery of our work we have created an Internal Change Programme, to bring together internal improvement work to align with our wider organisational priorities and demands. This workstream will focus on innovation, internal improvement and efficiencies. It will also support the delivery of the workforce plan to ensure we have the right people, in the right place with the right skills to deliver the work. This aligns with the blueprint for good governance and will support the delivery of recurrent savings in the coming years. This work is in addition to the review of the Scottish Health Council and the internal collaborative programme for the quality management system.

In 2019–2020 we will also establish a Strategic Change Programme to deliver a rebalancing of our work programme. As the national improvement organisation we are best placed to enable the spread and scale of best practice and will be looking to increase our work in this area. We will explore how we can support and help create the conditions for improvement and the cultural and leadership challenges that are faced by NHS boards and Health and Social Care Partnerships when developing their strategic plans for the future of services. This work is closely linked with the Internal Change Programme and together these programmes will support the design and delivery of our work in future years.

Performance reporting
We have convened a working group to review and design the associated performance reporting with this year's operational plan. This is a key priority as part of our internal work on corporate governance and responding to the blueprint for good governance. We will focus on developing our reporting to reflect the impact of our work, highlighting outcomes and not outputs and presenting risk, finance and staffing information alongside programme updates to enable a greater understanding of the programme and progress.

Quality management system approach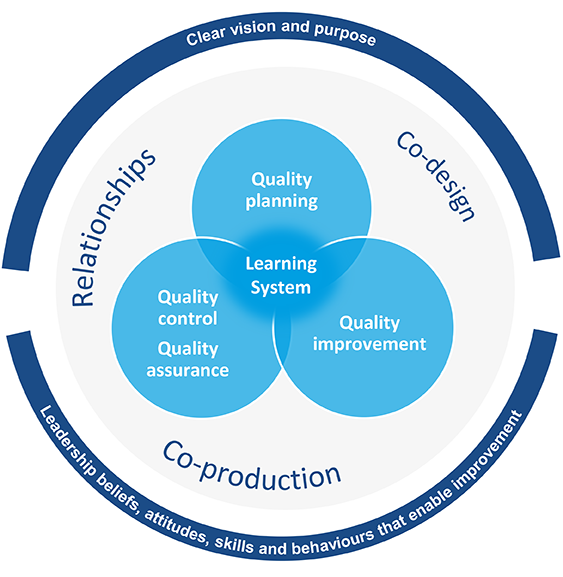 Our operational plan for 2018–2019 drew attention to our work on developing a framework for a quality management system for Scotland. This framework is designed for checking that an organisation, service or individual team has the components in place that are required to effectively and sustainably deliver a high quality service.

As well as supporting the testing of a quality management system within NHS boards and Health and Social Care Partnerships, we are testing this within the context of our own organisation and the services we deliver. We anticipate that, by testing the quality management system within Healthcare Improvement Scotland, we will learn about how we can strengthen how we do 'quality planning' and better understand the value and impact of our work.

In 2019–2020 we are already using a quality management system to describe and shape our ongoing programme of work and will build on this throughout the year. We will use the approach to improve our collaborative working across Healthcare Improvement Scotland and move towards delivering our work through integrated, multidisciplinary teams, making best use of the skills and expertise from across the organisation.

A complete list of our work, is included in the 'Our work' section at the end of this document. This list is correct at the time of publication, although our overall programme of work evolves on an ongoing basis in response to where we can make the greatest difference. Therefore, there will inevitably be some changes to our work programme during 2019–2020, including some new pieces of work that we have not yet planned for.