Essential Anticipatory Care Plan
The Essential Anticipatory Care Plan (Essential ACP) was created during the COVID-19 pandemic to document important information about preferences for care and those that should be involved in decisions about care in the event of a serious illness.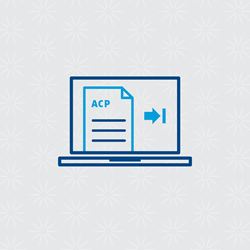 Find out more about the Essential ACP
The Essential ACP word template is a two-page document, which was issued via Scottish Government in April 2020. The latest version of the Essential ACP was updated in November 2020.

An online version of the Essential ACP, which is based on the word template has been developed by NHS Education for Scotland Digital Service (NDS).

What is it?

The Essential ACP is an online tool developed to support health and social care staff with 'thinking ahead' ACP conversations with individuals as part of their care.
It was developed during the COVID-19 pandemic, but is not limited to discussions about the coronavirus infection.
It is to be used with practitioner judgement, and is not designed for sole use by individuals and their families without guidance.
It provides a step-by-step guide to the conversation and an electronic form (PDF) to capture what matters to the individual.
The completed PDF is generated and can be saved, downloaded and sent securely to the relevant GP practice where the information can be copied and pasted into the individual's Key Information Summary (KIS).
It can also be printed and given to the individual.

 

Materials to support you to use the online tool

 

Watch the video below on how to use the Essential ACP Online Tool.

 

Information governance

The Essential ACP Online Tool produces a PDF which can be shared with the individual and the clinical team caring for the patient. Before using please ensure that you familiarise yourself with the tool and consider your local information governance policies with regards to the collection, recording and sharing of information.
Get in touch
If you have tools or resources that have supported you in preparing for and undertaking ACP, or you want to provide feedback, please get in touch by emailing us at