Our guest Speaker - Professor Hardeep Singh MD, MPH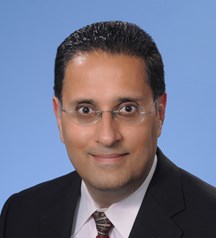 Professor Hardeep Singh is a Professor of Medicine at the Center for Innovations in Quality, Effectiveness and Safety (IQuESt) based at the Michael E. DeBakey VA Medical Center and Baylor College of Medicine, Houston. He leads a portfolio of multidisciplinary patient safety research related to measurement and reduction of diagnostic errors in health care and improving the use health information technology. His research has informed several national and international patient safety initiatives and policy reports, including those by the US National Academy of Medicine, AHRQ, AMA, ACP, CDC, OECD and the WHO.
He serves as a nominated member of National Academies' Board of Health Care Services and is an elected Fellow of the American College of Medical Informatics for significant and sustained contributions to the field of biomedical informatics. His contributions include co-developing the "ONC SAFER Guides" which provide national recommendations for safe electronic health record use, co-chairing or participating on several national panels and workgroups on measuring and improving safety and developing pragmatic resources and tools to promote patient safety and diagnostic excellence in clinical practice.
He has received several prestigious awards for his pioneering work, including the Academy Health Alice S. Hersh New Investigator Award in 2012, the Presidential Early Career Award for Scientists and Engineers (PECASE) from President Obama in 2014, the VA Health System Impact Award in 2016 and the 2021 John M. Eisenberg Patient Safety and Quality Award for Individual Lifetime Achievement.
Webinar overview
Professor Singh delivered a session on the current understanding of diagnostic error in medicine and its cognitive and systems-related contributing factors, approaches to understand its complexity, and methods to identify diagnostic errors in clinical practice. The session explored solutions, including how clinicians can learn from diagnostic errors and what potential interventions can be used to achieve diagnostic excellence.
Ciara Robertson (Senior Improvement Advisor) and Belinda Robertson (Associate Director of Improvement) then lead a discussion exploring the key issues and priorities for patient safety in primary care in Scotland.
Webinar resources
Achieving Diagnostic Excellence in Primary Care Slides
Additional resources
You can also access the SPSP National Learning Event delegate bag for access to information and resources from the full event.
Evaluation - please respond by Friday, 20 October 2023
If you attended the webinar and would like to give us feedback, please go to the evaluation form.
If you registered for webinar but couldn't/didn't attend we are interested to hear why, as well as to understand your safety priorities in primary care, please go to the evaluation form.
Most importantly, we want hear from you about your safety priorities in primary care, whether you registered for the webinar or not. To send us your feedback, please complete the relevant question on the evaluation form.   
Get in touch
If you would have any questions or would like to speak to a member of our team about the work of the Primary Care Improvement Portfolio please email his.pcpteam@nhs.scot.