Deploying quality improvement to deliver sustainable improvements in waiting times.

Reducing how long individuals wait for treatment whilst maintaining or improving the overall quality of care is a key priority for Scotland's health services.  The Cabinet Secretary requested Access QI as a quality improvement (QI) programme to support the delivery of the Waiting Times Improvement Plan (WTIP).
Healthcare Improvement Scotland's ihub and NHS Education for Scotland (NES) are working together with NHS boards to deliver Access QI.  The programme is currently funded by the Scottish Government until October 2020 and aims to deploy QI expertise to meet the challenge of delivering sustainable improvements to waiting times while maintaining or improving the quality of care.
The initial focus is on three accelerator sites, though we will put in place a Scotland-wide learning system to ensure rapid sharing of learning more broadly.
You can find out more about the origins and design of Access QI in the programme design proposal.
 
Our approach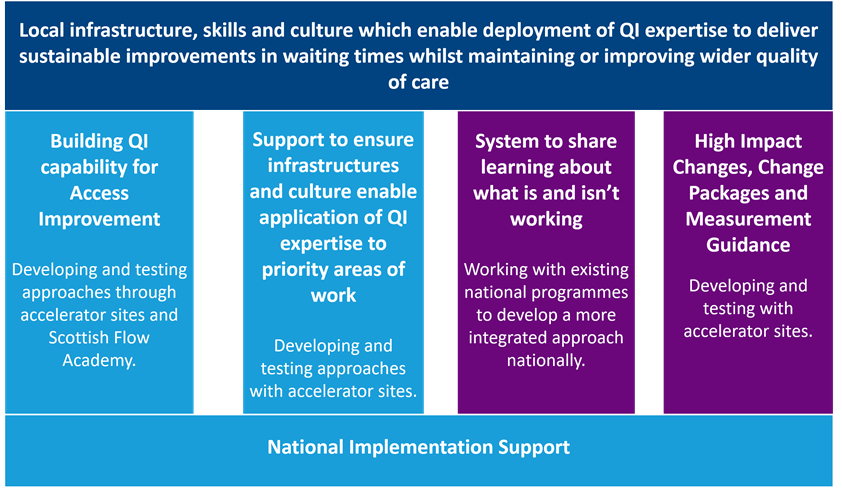 There are four main pillars to Access QI that are underpinned by national implementation support:
Building the capability within teams and across pathways of care to deploy QI to improve waiting times whilst maintaining or improving the quality of care,

Providing support to ensure infrastructures and culture enable application of QI expertise to priority areas of access improvement work,

Working with other national programmes to develop new and strengthen existing systems to share learning about what is and isn't working, and

Working with other national programmes to ensure readily accessible information and guidance is available on High Impact Changes, Change packages and Measurement.
Tools and resources related to the four pillars will be developed and shared from November 2019 to October 2020.  Current resources include a draft driver diagram and pathway diagnostic guidance.
 
Our support offer
Access QI currently support NHS boards through:
Scottish Flow Coaching Academy (FCA).  FCA is part of NES national QI taught programmes and is supported by Access QI.  The focus is on pathway redesign, including providing QI practitioners with the knowledge of how to design services which balance capacity with demand at every step on a pathway to ensure continuous flow.  The programme started in September 2019.  You can find out more about FCA in the Flow Coaching Academy information pack.
Accelerator sites.  NHS Grampian, NHS Lothian and NHS Tayside were recruited as accelerator sites through an open recruitment process during August and September 2019.  Sites will be supported until October 2020 to develop and deploy QI expertise for sustainable improvement of waiting times while maintaining or improving the quality of care. You can find out more about accelerator site support in the site specification.
Over the coming months Access QI will be contributing towards the development of a national learning system to enable rapid sharing of learning across all NHS boards.
 
Latest news
Data and Measures session. A Data and Measures session was held virtually on the 18 December. The Access QI team, and delegates from NHS Grampian, NHS Lothian and NHS Tayside discussed a draft measurement plan. Historically there have been challenges measuring capacity in pathways and sites are going to try collecting data on key outcome measures for the end of January. (Published 18 Dec)
Pathway Diagnostic Guidance. A working draft of the Pathway Diagnostic Guidance has been developed to help supplement accelerator site diagnostics of current pathways.  This is a working draft and we are keen to receive feedback on how useful it is, and tools or methods that should be included or removed from the guide.  Please get in touch at hcis.access-qi@nhs.net to share your feedback. (Published 12 Nov)
Launch event. The Access QI launch event was held on the 30th of October.  It included an introduction to Access QI by Ruth Glassborow, Director of Improvement, and workshops on proposed measures, pathway diagnostic and scheduling systems. (Published 8 Nov)
Accelerator site recruitment. NHS Grampian, NHS Lothian and NHS Tayside have been recruited as accelerator sites.  Each site has identified three pathways to focus their improvement activity:
NHS Grampian are focusing on Dermatology, Gynaecology and Urology,

NHS Lothian are focusing on Dermatology, CAMHS and Urology, and 

NHS Tayside are focusing on Colorectal, Gynaecology and potentially Urology.
(Published 28 Oct)