Designing a physical capacity tool for organisation-wide remobilisation

With the on-set of COVID-19, NHS Fife was required to scale back elective care service activity, and introduce measures such as screening questionnaires, temperature checks, and physical distancing. These new regulations immediately reduced capacity across the organisation. Therefore, it was imperative that when remobilising services a strategic and data-focused approach was taken to ensure safety.
The initial ask was around making sure that when we were expanding footfall across sites that it was safe and that were able to adhere to social distancing guidance. But quite quickly we realised that we were able to see additional capacity or hidden availability that maybe we hadn't seen before." Programme Manager (Transformation and Change Team), NHS Fife
It was agreed that a tool which would allow for capacity across multiple services to be calculated simultaneously, should be designed. The team was led by the Transformation and Change Team programme manager and included acute clinical and service leadership, a service improvement coordinator for unscheduled care, and clinical services manager from the Fife Health & Social Care Partnership.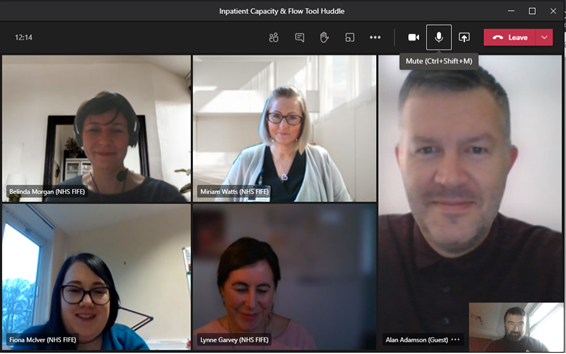 Image: Team huddle
They chose to apply quality improvement (QI) methodology and utilise concepts of Demand, Capacity, Activity, and Queue (DCAQ). In the first instance the team recognised a need to conduct resource mapping sessions to identify the capacity of sites and the needs of services looking to remobilise.
Resource mapping
Working with site managers, and colleagues from the infection control and estates teams, a series of walk-throughs were conducted in order to map the patient journey at each site. By ensuring that all infection control and social distancing protocols were being followed, the team were able to calculate the necessary capacity for each clinic being considered for remobilisation. This involved identifying the functions of each room (such as whether it has a sink, or is used as a plaster room, etc.), the staff footfall, the capacity of areas such as waiting rooms, and possible 'wrinkles' or 'bottlenecks'. An example of a possible capacity and flow 'bottleneck' identified at one of the sites was the outpatient department being split over two different floors, therefore patients may require the use of the elevator or the stairwell. These have reduced capacity and as a result, could interrupt the flow of patients and cause delays in appointments.
The resource mapping process also included talking to service staff in order to identify their pre-COVID-19 capacity, thus providing baseline data prior to restrictions being implemented. This allowed the team to future-proof the tool by including different social distancing options to ensure they can quickly recalculate changes to their capacity should pre-COVID safety protocols be reinstated.
The initial build of the tool had to rely on estimates and ratios based on a set of informed assumptions. As the tool developed, a census of those coming onto site was taken to provide more accurate details as to how many patients attend their appointment accompanied by a loved one or carer in order to predict the impact on available capacity. 
Building the tool
Following the walk-through, all services looking to remobilise were asked to provide data regarding expected patient and staff numbers, waiting rooms, treatment rooms, and clinic time and length. This information was then input into the MS Excel tool being built and the team conducted a data cleanse to ensure no duplication or miscalculations, and to check all functionalities of the tool. Furthermore, the team linked to existing organisational guidance regarding flow and capacity during COVID-19. Ancillary staff who spent less than 15 minutes in a space did not need to be included, and the team discussed all issues such as a patients passing in corridors with the clinical lead from the infection control team to determine what was 'out of scope' and covered by other guidance. This provided assurance around all decisions and data collection. The project involved a number of tests of change and prototyping but this ensured consistency and tool validity before being rolled out and used by services.


Image: Screenshots of the capacity tool in action
What has happened?
The tool is now embedded in NHS Fife governance structures for remobilisation and all services looking to resume their clinics are required to go through this process. The tool is now used predominately by senior charge nurses. Also the tool's use has spread and it has been adapted for use in community settings and the same thinking is now being applied to whole-system capacity and flow for beds. For the organisation, the tool has ensured that decision making was evidence based and informed by data.
Key learning 
To help other teams looking to design their own organisation-wide capacity tool here are the key steps taken.
1. Determine what scale this work is being done (single service or across multiple services). The more services involved the more complex the task.
2. Conduct a walk round your physical space so full capacity can be mapped. Where possible, capacity mapping and modelling across all sites should be done by the same team so there is consistency.
Some key points to consider:
Have to make sure you have up-to-date floor plans?
What are the patient pathways through the buildings?
Have you identified places with potential 'wrinkles' or 'bottlenecks'?
Do you know how it was it laid out before and the pre-COVID-19 flow and capacity?
3. Consult with the services that want to use the space or do so at the minute.
Some key points to consider:
Capture data about days, times, clinic name, and patient and staff numbers.
Ensure that no clinician, staff service or ancillary service members are forgotten.
4. Conduct a thorough data cleanse and ensure all functions of the tool are working.
5. Review the tool dashboard to identify any conflicts, or double booking.
6. Link to the organisational guidance and clarify what is 'out of scope' for the tool. You may wish to discuss concerns with a clinical lead from the infection control team to provide expertise and assurance.
7. Have a handover meeting with the service to ensure they understand the tool and have the opportunity to raise any questions.
Please share your local innovations by completing this form and emailing us at his.accessqi@nhs.scot