The accelerator sites inaugural learning session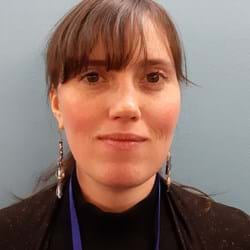 Written by Camilla Somers, Knowledge and Information Skills Specialist
17 March 2020
On 3 March 2020, the three accelerator sites using a QI approach to deliver sustainable improvement to waiting times, NHS Grampian, NHS Lothian and NHS Tayside, came together in person for their first learning session to share their experiences and discuss any 'wins' or 'wicked problems' they are experiencing.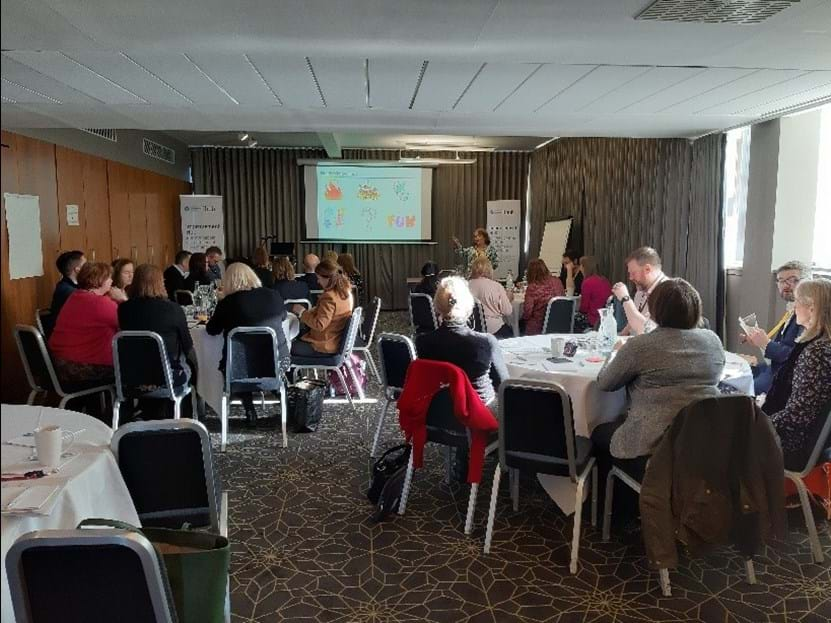 Colette Dryden, Access QI Improvement Adviser, welcoming the boards and getting the day started!

Representatives from each of the boards working with their nine chosen pathways (three pathways per board listed below) presented an update on the pathway and the test of change ideas they hope to undertake in the upcoming months, with an Access QI approach and support from the national team.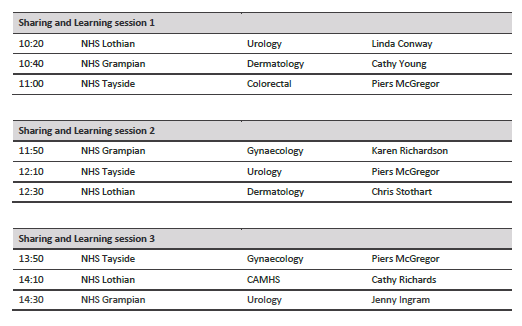 Learning session agenda.
Shared learning

The boards heard how across the nine pathways they were all at the same point with only a small degree of variation in their progress. Some described it as reassuring to discover that they were all either in the process of, or had just completed, 'diagnosing' the 'cluttered landscape' of their pathway, with each site having identified their proposed initial test of change ideas. These ranged from the development of new referral guidelines to ensure more effective vetting of patients from the outset to the most suitable service in gynaecology, to the testing of implementing standardised report structures and coding across multi-site services to ensure the priority of cases are immediately identifiable by other departments in the pathway, in dermatology.
Safety and risk assessments
Diagnostics is vital. Safety and risk are vital for quality improvement" Allison Robertson, NHS Tayside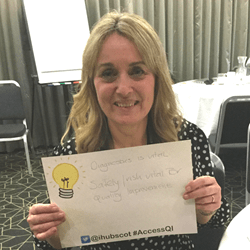 Undertaking risk assessment as part of diagnostics to ensure planning quality improvement that is likely to bring successful improvement to patient care." Cathy Young, NHS Grampian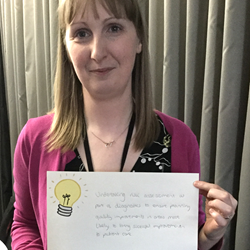 The role of incorporating safety and risk assessment in that initial diagnostic stage of understanding your pathway generated a crucial discussion as a key learning point. A commitment to sharing existing tools and knowledge within boards with one another was actioned as a result.
Really liked the Lothian experience of using a risk matrix approach to help focus & need time for quality planning." Jenny Ingram, NHS Grampian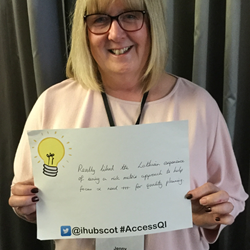 Patient and staff experiences
Patient voice and public engagement in designing/implementing the changes - don't make assumptions." Sarah Lowry, NHS Tayside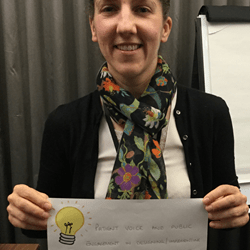 Another emerging key learning point and self-identified 'call to action' arose as the boards heard experiences from Linda Conway and Hazel Smith (NHS Lothian Urology pathway) and Piers McGregor (NHS Tayside Colorectal pathway) about the wealth of pathway knowledge their teams had gained from qualitative work carried out to understand the lived experiences of patients currently receiving treatment and, in some cases, the impact of these experiences on staff.

Linda highlighted how this insight had provided both evidence of possible areas ripe for change within the pathway from both the perspective of patients and staff, but also how the work had served as a poignant reminder of the importance of the work and had motivated the team.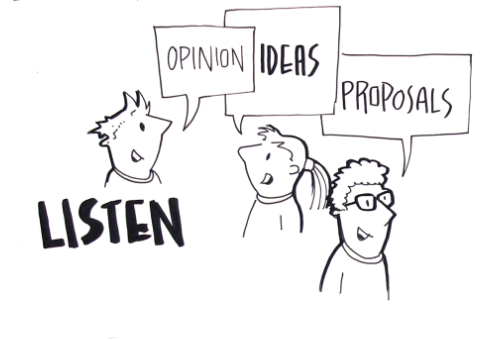 Two other pathways have approached the national team for support and advice for conducting similar work within their pathways, and Linda has offered to provide details of the tools and recommendations to the other boards.

Networking lunch
Acting on feedback from the Access QI launch event in October, where boards felt that they wanted more time to network, share their experiences and make meaningful connections with others, a one hour networking lunch was included in the agenda. Feedback from the day was captured through post-it boards allowing for anonymised honest thoughts as to whether this informal lunch (where the national team encouraged attendees to gather and discuss their issues without the team) met the needs raised previously. Overwhelmingly the feedback was positive, with sites troubleshooting over shared challenges and offering one another solutions or alternative perspectives on key issues. Taking this forward to planned future sessions, the national team plans to try and accommodate an extended lunch session or coffee breaks throughout the day.
Wordle based on the lightbulb moments of the day.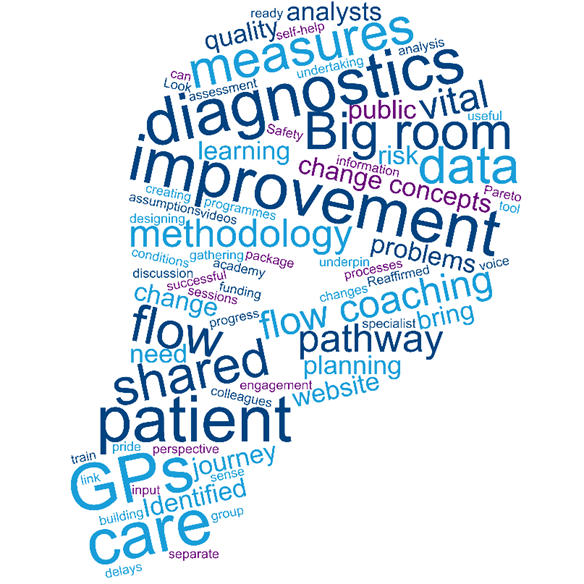 NHS Education for Scotland – QI Learning Zone update
An additional feature of the day was the introduction to the new QI tools and resources on the QI Learning Zone by Catriona Hayes from Scottish Government, who has been working with NES, who are an integral part of the national team. She presented a 'how-to' guide for the boards detailing what was now available and how to access these newly uploaded tools and resources. If you want more details please visit the QI Learning Zone.
Visualisation of the improvement journey by Catriona Hayes.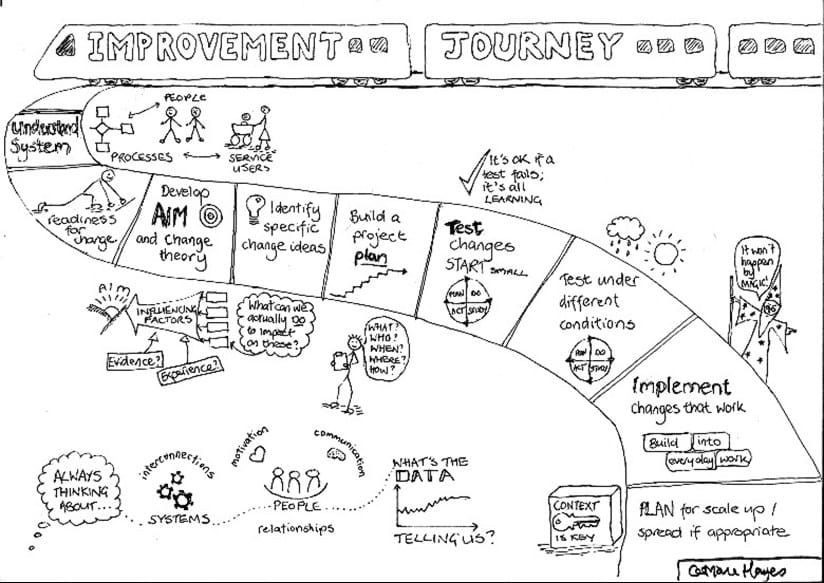 What next?
The boards will continue on their Access QI journey over the next seven months with continued support from the national team. If you would like to learn more about their progress, we regularly update our website and will be releasing stories of their experiences, news and upcoming events throughout this time, so stay in touch!
Should you have any queries about Access QI please email us at his.accessqi@nhs.scot