Access QI: Using quality improvement to improve waiting times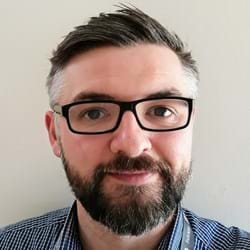 Written by Thomas Monaghan, National Programme Director
6 March 2020
Scotland is famous throughout the world for pioneering the use of quality improvement in healthcare. 
Since 2008 the Scottish Patient Safety Programme has systematically used quality improvement to reduce harm in our hospitals and in our communities. There are babies, children, parents, and grandparents that are alive today because of quality improvement.
Safety will always be an area of healthcare we strive to improve. Lessons from improving safety can be applied to address other challenges in our health and social care system, such as delivering improvements in mental health, integration, and access.
Our Mental Health Improvement Programmes are already supporting NHS boards to use quality improvement to improve Mental Health support. Our Living and Dying Well with Frailty Collaborative is supporting health and social care partnerships to use quality improvement to deliver integrated care in the community. In October 2019 we launched Access QI to take a quality improvement approach to improving access. 
Access QI
Access QI is a 12 month programme supporting NHS boards to apply their quality improvement expertise to sustainably improve waiting times. We are delivering the programme in partnership with NHS Education for Scotland and are funded by the Scottish Access Collaborative. 
We currently have four workstreams we'll deliver by the end of October 2020.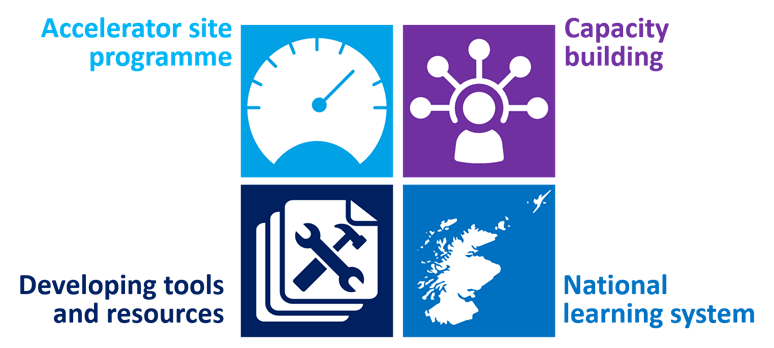 Accelerator site programme
We have recruited three NHS boards with well-developed quality improvement infrastructure and experience to apply their quality improvement expertise to improving access. They are funded until the end of October 2020 to each take three planned care pathways through the improvement journey. Their goal is to sustainably balance capacity to meet demand in order to prevent the build-up of waiting list backlogs.
From April 2020 onwards we'll be sharing case studies, tools, and resources showing how each pathway has applied quality improvement towards improving access.
You can find out more about the accelerator sites on the Accelerator site programme web-page.
Capacity building
NHS Education for Scotland is leading the development of quality improvement training materials and teaching methods to make it easier for quality improvement practitioners to apply their skills to improving access. This includes:
updating guidance, tools, and resources on the QI Zone to make them more applicable to improving access
working with eight NHS boards to test Flow Coaching as a teaching method for Access QI
updating the content of existing national capacity building programmes, such as Scottish Improvement Leaders, to include more on using quality improvement to improve access, and
developing, testing, and delivering a quality improvement Masterclass to upskill alumni from previous cohorts of national capacity building programmes, to be able to apply quality improvement skills to improving access.
Developing tools and resources
We are developing driver diagrams, measurement plans, and other resources to be adapted by quality improvement practitioners when running local access improvement projects. These include change ideas from Scottish Government access programmes such as the Scottish Access Collaborative and the Modernising Patient Pathways Programme.
We are also writing up case studies from the accelerator sites and the flow coaching sites to demonstrate how NHS boards are using quality improvement to improve access.
We are keen to hear from other services across Scotland that have used a quality improvement approach to improve access and reduce waiting times. If you have a tool, change idea, or an improvement story you'd like to share please get in touch with us at his.accessqi@nhs.scot
We're sharing our new tools, resources, and case studies on our Access QI webpages. 
Spreading learning across Scotland
The final part of Access QI is spreading what we have learned across Scotland. We'll routinely publish case studies and tools to our website from April, and from the summer we'll start inviting all NHS boards to join us in masterclasses, events, workshops, and webinars.
To join our future activities please follow us on twitter using #AccessQI or subscribe to the ihub newsletter using the form below.