Tools and resources
Quality improvement tools and resources you can use locally to help improve waiting times for elective care.
We have grouped the resources below based on the different stages of the improvement journey as outlined in the QI Zone.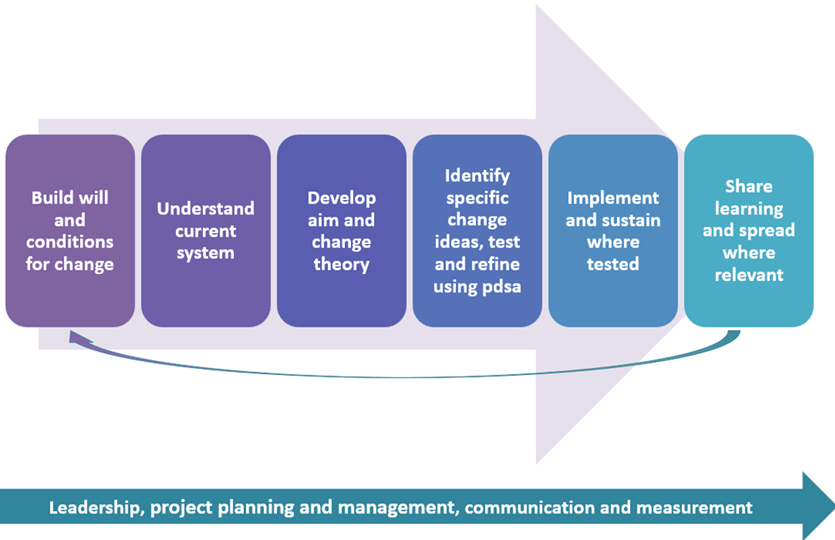 We are continually developing and sharing new resources. We welcome any suggestions you have for new resources and feedback to improve existing resources.  If you have quality improvement tools or resources that have helped you improve access or you want to provide feedback, please get in touch by emailing us at hcis.access-qi@nhs.net.
Build will and conditions for change
Building will and conditions for change is necessary to consider at the start of your improvement journey and will require continual attention and effort throughout your access improvement project.
Understanding your system
Waiting times increase when demand is greater than the service's capacity to respond. Understanding local systems to identify the constraints in the system helps identify the right improvements that will address the biggest issues in reducing waiting times.
Pathway diagnostic guidance

: Guidance outlining a process and range of tools for pathway diagnosis.

System flow overview

: Guidance to understanding people's experience of moving through a series of services, or the movement of work through a series of processes.  This includes introductions on the concepts of demand, capacity, activity and queue (DCAQ).

Last 10 patients

: Mapping the last 10 patients can help understand patient flow within a pathway and identify the longest waits. The last 10 patients tool was used by NHS Lothian, who shared their experience in a case study.

Scheduling diagnostic tool:

A tool to assess how the current approach to managing appointments may cause constraints that increase waiting times. 

Involving patients: 

Community Engagement (formally known as Scottish Health Council) provides a range of tools that support services to engage with people and communities.

Measurement:

 The Access QI measurement plan is used to review changes in access data over time that can help improve the understanding of the system.  The data collection template will be published in August 2020 to help services collect and chart access data. 

COVID-19 unknowns:

 Key factors related to COVID-19 that have an impact on demand and capacity of elective care services.  This was developed by NHS Tayside to help understand how COVID-19 may impact on elective care activity.
Developing aim and change theory
Teams undertaking improvement projects need to be able to articulate what they want to improve, including what 'better' looks like (aim) and how they think they will do that. 
Access aim statements:

Guidance on creating aim statements.

Access driver diagrams:

 Guidance on creating driver diagrams that v

isually present a team's theory of how an improvement goal will be achieved. 

 A template of a driver diagram for access as a starting point for your local project. 

Online learning modules:

Turas contains an elearning modules focused on developing aims and driver diagrams. NHS Scotland staff will need to use their Turas log-in to access these modules.
Identify specific change ideas, test and refine using PDSA
To get different, improved outcomes we need to identify and develop specific ways to change the system. These ideas should then be tested to find out what works.
Implement and sustain where tested
Implementation uses PDSA cycles to support making the change a routine and integral part of the system before spreading to other parts of the organisation.
Overview:

Guidance on making changes normal practice across the service. 

Case studies:

 Examples from across the accelerator sites will be developed and shared by March 2021.
Share learning and spread where relevant
Sharing learning with others can help accelerate change across the system.  Spread normally takes place once a change idea has been successfully tested, implemented and sustained under a variety of conditions.
COVID-19 learning for elective care:

You can share local changes to elective care pathways by completing this template and emailing it to us at hcis.access-qi@nhs.net.  You can access learning from other NHS boards via the learning system.  You can also register for our next webinar on 29 September.

Support sharing your learning

: If you have undertaken a local quality improvement project to improve access to elective care and would like to share your learning, please contact us at hcis.access-qi@nhs.net.