Frailty at the Front Door
The Frailty at the Front Door Collaborative is part of the Acute Care Portfolio within Healthcare Improvement Scotland's improvement hub (ihub) and is one of a number of offerings that aim to address the needs of people living with frailty across their pathway of care. These include
Frailty at the Front Door (this collaborative)
Living Well in Communities – A collaborative launching in May 2019 to support improvement in identification and support for people aged 65 years and over to live and die well with frailty in the community. Please contact the Living Well in Communities team for further information. 
The aim of the Frailty at the Front Door collaborative is to improve the process of identification of frailty and the coordination of care to deliver better experiences and outcomes for people living with frailty who present to unscheduled care.  While this specific work is focused on the front door of acute care, it is driven by an approach that recognises the importance of thinking about flow across the whole system.
There is compelling evidence to support the benefits of early and effective comprehensive geriatric assessment, re-ablement and intermediate care for people living with frailty. However, optimal outcomes are only achieved when community health and social care services and hospital systems are fully aligned, well-coordinated and care and support are attuned to the specific needs of people living with frailty.
Phase 2 of Frailty at the Front Door
Healthcare Improvement Scotland has successfully recruited four boards to take part in the second phase of the Frailty at the Front Door Collaborative. The second phase of this collaborative launched in September 2019 and will be completed in March 2021, the collaborative will help teams improve the way frailty is co-ordinated at the front door of Acute Care. Each team includes representation from acute care and health and social care partnerships.
The four boards taking part include:
NHS Ayrshire & Arran (University Hospital Ayr)
NHS Greater Glasgow & Clyde (Inverclyde Royal Hospital)
NHS Lothian (Western General Hospital)
NHS Tayside (Ninewells Hospital)
Phase 1 of the collaborative was delivered between December 2017 and May 2019, we worked with 5 NHS boards to test potential approaches to improving care coordination for people with frailty who present to unscheduled acute care services. An evaluation of the first phase of the collaborative has been completed and will help inform the design and delivery of phase 2. To access the report click here.
Sites involved in phase 1 of Frailty at the Front Door: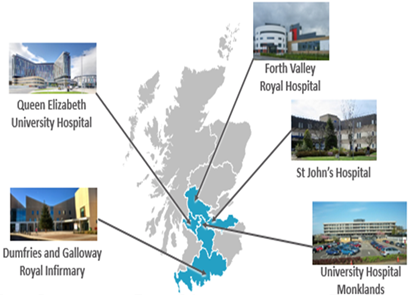 Impact of the approach: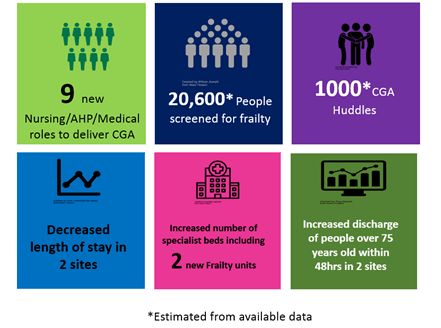 Our resources can now be found on our Knowledge Hub page, where you will need to request to join and become a member of our Frailty at the Front door page.
Click here to view the Driver Digram
Resources and downloads
Frailty at the Front Door phase 2 - Launch Event 18 September 2019

Frailty at the Front Door Collaborative Summit 16 May 2019