Our Programmes
Enabling people to live well at home, or a homely setting, in their community for longer.
We deliver our support to Integration Authorities through a range of improvement programmes. All of our programmes focus on: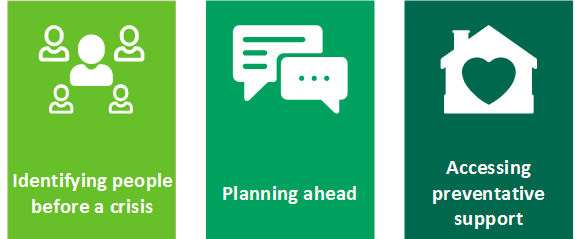 Hospital at Home
Hospital at Home is a short-term, targeted intervention that provides a level of acute hospital care in an individual's own home, or homely setting that is equivalent to that provided within a hospital. We are providing support to NHS Boards and health and social care partnerships to create Hospital at Home services.
Find out more about the Hospital at Home programme.
Frailty Improvement Programme 
The Frailty Improvement Programme aims to support health and social care staff to improve the experience and outcomes of people with frailty.
The programme is focussing on both acute and community services and how they are integrated to better support people with frailty. It will draw on the learning from the Frailty at the Front Door Collaborative and Living and Dying Well from Frailty Collaborative.
Find out more about the Frailty Improvement Programme.
Living and Dying Well with Frailty Collaborative (hibernated)
A large-scale change collaborative which aims to improve earlier identification, anticipatory care planning and shared decision-making, and support a multidisciplinary approach so that people living with frailty get the support they need, at the right time, at the right place.
Find out more about the Living and Dying Well with Frailty Collaborative.
Previous programmes
We have several programmes that have come to an end. Their resources are still available and their learning has been used to inform the design and delivery of our current programmes. These programmes include:
Improving identification and care co-coordination of palliative and end of life care. March 2017 - March 2019
Testing and evaluating models of neighbourhood care - Phase 1. March 2017 - March 2019
Phase 2 of this programme is being delivered by the People Led Care Portfolio. From April 2019
National approach to anticipatory care planning. February 2016 - March 2019
Intermediate care and reablement. August 2016 - December 2018
Developing community frailty and falls pathways. September 2015 - February 2018
Understanding pathways of high resource individuals. September 2015 - March 2017