Electronic Frailty Index: Identifying People With Mild Frailty And Developing A 3rd Sector Led Response
Midlothian Health and Social Care Partnership
Research suggests that there are 6000 people living with mild frailty in Midlothian. But there are substantial challenges to identifying them, particularly those mild or moderate frailty (the rising-risk population).
We are working with the ihub to try and proactively identify this population using the electronic Frailty Index (eFI), and build relationships between the third sector and primary care to establish a robust pathway into community-based support.
What we're doing
The Electronic Frailty Index (eFI) uses General Practice read codes to identify frailty in the practice population, rather than rely on age and hospital activity data.
Three General Practices used eFI to identify and contact around 1400 people living with mild frailty, encouraging them to access the Red Cross Neighbourhood Links service.
Neighbourhood Links offers a 'good conversation' about what matters to the individual. The comprehensive assessment covers practical, emotional and social issues and then connects people to Health and Social Care Partnership services, other relevant statutory agencies such as the Department of Work and Pensions (DWP), and third sector support.
It also allows signposting for future services, e.g. government grants for improving home heating, attendance allowance referrals, Blue Badges, and Dial a Ride.
Results so far
Offering the service to those not in crisis has been challenging.  Those opting out often say they feel fit and independent and do not need any support, but welcome the information provided.
To date, 104 people have contacted British Red Cross, with 94 accessing the service. 
Letters from the GP Practice alone were not enough for people to opt into the service. Follow up phone calls and the British Red Cross presence at flu clinics significantly improved uptake.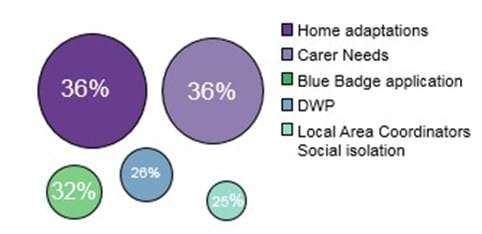 Main Benefits
"Visits made me aware of services I hadn't heard of. Now I have handrails where required, attendance allowance and am due to have heating upgraded."
Before eFI, we had a limited idea of people's needs, with the route into support typically following a crisis, or by chance, with very few referrals from primary care. We now know there are unmet carer needs, basic home adaptations requirements, accessing issues with benefits access, and a need to link with groups and activities to reduce isolation and maintain independence.
This project supports people to stay in their home, remain independent for longer, and enables them to link back into their community.
Almost 75% of people said they had mobility issues, with 22% falling in the last 6 months. Installing grab rails and ensuring walking aids are adequate help prevent falls and possible hospital admissions.
27% have accessed groups via British Red Cross' Local Area Co-ordinators service to overcome loneliness and isolation.
1 in 3 were unidentified carers and went onto access services at VOCAL (Voices of Carers Across the Lothians) including Power of Attorney and Respite.
Referrals for Attendance Allowance (typically used to pay for things like daily living support such as cleaning, shopping, gardening, transport) to the DWP equates to over £48,000 a year raised for 11 people This is expected to Increase to over £100 000.
What next?
We will continue to build on the relationships with each of the GP practices to support:
identifying what information each practice would find useful
common themes identified
awareness raising of what services Red Cross are working with to meet patient needs
We hope to begin training that will allow the British Red Cross to directly assess and order adaptations and basic occupational therapy equipment, such as hand rails. This should have an impact on waiting times, and free up Community Care Assistants and Occupational Therapy colleagues to focus on more complex cases.
We are developing a falls pathway with colleagues from Midlothian Emergency Rapid Response Intervention Team (MERRIT). This will give patients who have had a fall quicker access to the team.
After duplicate referrals were identified, we are developing a shared pathway with CONNECT, a service provided by Volunteer Midlothian supporting people to be more physically active.
We are working with 'Eat Well-Age Well', a Scotland-wide voluntary organisation, to incorporate their draft nutrition tool into the Red Cross assessment. They are keen to support a grant application to enable Red Cross to buy simple eating aids to enable people to eat healthily at home.