Supporting Community Recovery And Reducing Readmission Risk Following Critical Illness
NHS Lothian
Survivors of critical illness frequently experience physical and psychological difficulties; cognitive decline; social challenges and reduced quality of life. 25% of Intensive Care Unit survivors experience unplanned hospital readmission within 3 months following hospitalisation.
Around half of ICU survivors have a complex set of pre-existing health and psycho-social needs: multi-morbidity, polypharmacy, significant psychological problems, mobility issues, problems with specialist equipment and fragile social support.
Feedback from these patients often describe inadequate preparation for hospital discharge, poor communication between secondary and primary care, and inadequate support with psychological care, medications and goal setting.
What are we doing?
NHS Lothian's award winning Patient Experience and Anticipatory Care Plan Team (PACT) reduced unplanned hospital admissions by over 30% for the high risk cohort of patients.
We are building on this work, identifying patients at high risk of early unplanned hospital readmission following critical illness, putting them onto our SCARF care pathway (holistic needs assessed, contact their GP, pharmacist, locality Hub with key information summary) and following up in the community.
We hope to achieve a 20% reduction in the 90-day and 6-month hospital re-admission rates for those at highest risk of re-admission following critical illness in Lothian.
How are we doing this?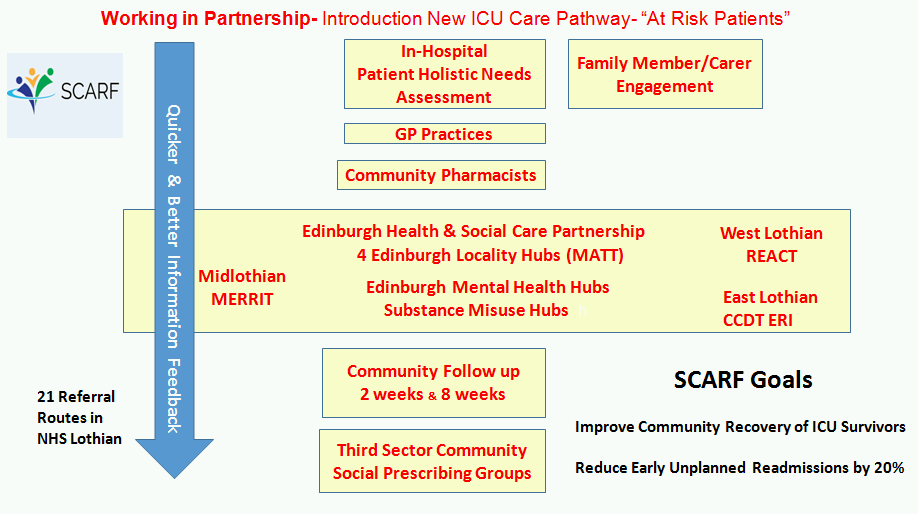 We developed an ICU holistic needs assessment tool for early identification of ICU survivors at highest risk of unplanned readmission.
We introduced in-hospital holistic needs assessment to identify the clinical and psycho-social needs of high risk ICU survivors.
We developed speedier and better communication links (direct real-time secure e-mail) between ICU hospital staff, and general practitioners (GPs).
We are working with community multi-disciplinary teams within local health and social care partnerships (HSCPs) and their locality hubs, and local community dispensing pharmacies and third sector community groups on improving referrals, information transfer and communication links.
We have introduced community telephone follow up of ICU survivors at 2 and 8 weeks after hospital discharge.
Feedback
"I recently received an email about one of our patients as part of your SCARF project which I think is an excellent idea and have been impressed with the information we received… I've noticed delays of 7-10 days in receiving inpatient discharge letters… We then end up in a situation where the patient (or often the community pharmacy) contact us to arrange changes in medications but we have no information about it, thus creating delays in medication changes and allowing more room for drug errors. Similarly, patients are often advised to have bloods rechecked a week or so after discharge, but we don't have that information until they are already overdue. We often end up phoning wards to chase down discharge letters which obviously takes up valuable hospital nursing staff time too… I just wanted to let you know as you are running an excellent project and I think the primary-secondary care interface could be further improved by more timely deliverance of discharge letters.
- GP
We have had similar encouraging feedback from other GPs and community Pharmacists. We have also received excellent qualitative feedback from patients and carers who have been involved with the SCARF project.
Lessons Learned
At the end of October 2018 we undertook a major review of our project. Following this we adapted our inclusion criteria for patients coming on to the SCARF care pathway. We also adapted our in-hospital assessment tool and post-hospital follow up assessment tool.
We have learned the importance investing time and effort in maintaining good communication links with our partners in the hospital and community. We believe this will help to build sustainability once project SCARF is completed.
We believe that much of what we have learned is transferable to other patient groups. Specifically targeting how to get key stakeholders on board, keeping them on board, and through continuous auditing, adapting working practices of the core team to achieve the project's key aims and objectives.
Sharing the learning
Our clinical lead visited Boston as part of his SQS Fellowship and spoke about SCARF on his visits to various academic and clinical bodies.
We presented at the Scottish Intensive Care Society conference January 2019 on the work of SCARF.
We presented at the International Conference on Integrated Care in San Sebastian, Spain in April 2019 on the work of SCARF.
Next Steps
We have started work focused on gathering data on polypharmacy in ICU patients on the SCARF pathway.
We have started gathering data on resiliency in ICU survivors who are and are not eligible for the SCARF care pathway.
We have started analysing data on our discharge planning processes in ICU survivors who are admitted on to the SCARF care pathway.
We plan to:
assess how adapting our assessment tool has impacted on patient numbers going onto the SCARF care pathway
identify ways of ensuring sustainability following the completion of project SCARF
identify the barriers and facilitators to supporting critical care survivors' recovery in the community and reducing their risk of readmission, both in a NHS Lothian context and globally
identify what learning is transferable