Improvement and learning events
Over the last year, we have held a series of national engagement events to support sharing of improvements in practice. These have received wide geographical representation from across Scotland, across different professional groups, from other partner organisations and including people with dementia and carers.
Improving Co-ordination, Improving Care
22 February 2018
Over 200 delegates, including Health and Social Care Partnership staff, housing colleagues, partner organisations and people with lived experience came together to learn and share best practice in integrated care co-ordination models to support people to live well in the community. Through a range of presentations, workshops and panel discussions, attendees heard about people's experience of care co-ordination in the community and shared good practice examples.
Key messages from the day:
Improving co-ordination does improve lives, including clinical outcomes.
Importance of relationships, trust, values and the person at the centre.
Listening to and valuing the experiences of people, their families and carers.
Importance of home and of local community assets
97% of respondents to our evaluation said they had improved their knowledge and understanding of care co-ordination and that this would help inform their practice.
View all the posters and presentations from the day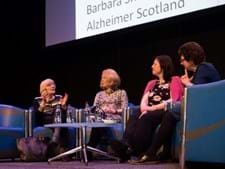 Focus on Dementia: Making Strategy a Reality
10 May 2017
Focus on Dementia worked with partner organisations to host a National Event on Wednesday 10 May 2017 at the Crowne Plaza in Glasgow. The event was designed to:
Support health and social care staff in Scotland in the implementation of key commitments of the dementia strategy (including diagnosis and post diagnostic support, care co-ordination in the community, acute care, specialist dementia units and advanced/palliative care)
Showcase the partnership approach being taken in Scotland to support learning and improvement within health and social care partnerships, and
Share innovations and improvements in supporting people with dementia and those who care for them.
The event also showcased the work of Focus on Dementia, partner organisations and other dementia initiatives and brought together over 240 delegates from health and social care and people with dementia and carers to share best practice.
The event was Co-Chaired by Maggie Muir, National Dementia Carers Action Network (NDCAN) and June Wylie, Healthcare Improvement Scotland. Speakers at the event included Henry Simmons, Chief Executive, Alzheimer Scotland, Brian Robson, Medical Director, Healthcare Improvement Scotland, Scottish Dementia Working Group and National Dementia Carers Action Network members and Dementia Nurse Consultants.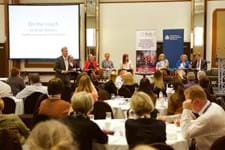 It was an absolute pleasure to be involved with this very important event, and also meet members of the FOD staff team. The staff I have met show a genuine commitment and excellent value base in their interactions which I observed repeatedly throughout the day. You all deserve a 'well done' as the planning and organisation of such a positive day takes a great deal of organising and real team work." Maggie Muir | NDCAN