Sharing practice events
Networks are increasingly being used in health and social care to connect staff and share learning. We hosted several events in 2017/18 to bring dementia networks together to share best practice, knowledge and resources.
Our aim is to build a community of staff with a common purpose and expert knowledge who can connect with each other, through supporting networking, information exchange, learning and improvement. We are working with NHS Education for Scotland and Alzheimer Scotland to develop and support the above dementia networks.
There has been high engagement in our network activity. To date, 257 staff have signed up to our distribution list and 60 yammer members. We have held 6 regional launch events, one national event for specialist dementia unit staff and 2 workshops for post diagnostic support practitioners
Celebrating Practice & Networking for Specialist Dementia Units
5 October 2017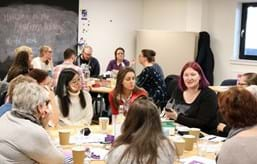 A national event, on 5 October 2017, brought together 150 specialist dementia unit staff from across Scotland, showcasing 32 posters from their respective areas and attended by Maureen Watt MSP.
Concurrent sessions showcased examples of good practice in relation to person centred interventions, stress and distress, improving practice and care, systematic change and improvement, SDU Demonstrator Sites, complex physical care needs and working in partnership.
Of 31 respondents, the event was rated 4.5/5 in terms of overall conference rating and 4.3/5 in terms of networking opportunities
(With 1 being the lowest and 5 the highest)
This event was excellent, my knowledge has been noticeably enhanced." Event delegate
Confident Conversations about Technology Workshop
24 November 2017
Post Diagnostic Support Practitioners from across Scotland came together for an event to support confident conversations in supporting people with dementia in the use of technology. The event included a mix of delivered presentations from people with lived experience, Alzheimer Scotland, Scottish Fire and Rescue and Industry together with practical sessions.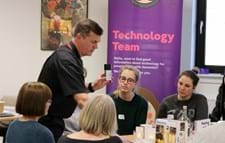 I feel more informed and optimistic about people having options for safety at home, allowing people to feel empowered." Workshop participant
I feel much more able to advise my patients/families on options to minimise risk of increased dependence." Workshop participant