To improve the quality of post-diagnostic support for people newly diagnosed with dementia in Scotland.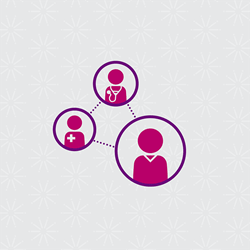 We achieve this by:
developing and testing a Quality Improvement Framework to support the delivery of high quality post-diagnostic support. Developing an accompanying guide for people with dementia and their carers. For more information and to see our film on the Quality Improvement Framework visit the

 Quality Improvement Framework for Dementia Post-Diagnostic Support in Scotland 

web page.
developing and facilitating a network for post-diagnostic support practitioners across Scotland to share practice and innovation in order to reduce variation and improve quality of care and support.
developing and facilitating a forum for post-diagnostic support leads across Scotland to share practice and link with national partners in order to support and inform dementia strategy implementation.
testing the relocation of diagnosis and post-diagnostic support services within primary care, through initial testing within three GP cluster areas in Scotland. We will share the learning from this work in order to inform future policy and practice. For more information visit the redesigning primary care to provide post-diagnostic support for people with dementia ihub news page and read our guide to making general practice dementia friendly.  
New Dementia Care Co-ordination Change Package
We are pleased to share our latest Dementia Care Co-ordination Change Package. The aim of this change package is to support community dementia services to improve the quality of PDS and integrated care co-ordination for people living with dementia and carers across Health and Social Care Partnerships in Scotland.
Find out more and download the Dementia Care Co-ordination Change Package on the ihub news web page. 
Improving and Supporting Carers of People with Dementia 
We are pleased to share two impact stories, produced by and in collaboration with the Unpaid Carers Programme at Healthcare Improvement Scotland, on involving and supporting carers of people accessing dementia services.
How can I get involved? 
Follow us on Twitter @FocusonDementia 
For the latest news and updates from Focus on Dementia, including updates on Diagnosis and Post-Diagnostic Support, please email us his.focusondementia@nhs.scot to be added to our mailing list. 
To ensure everyone can benefit regardless of their characteristics or where they access care, we completed an equality impact assessment. This highlights key equality issues that were considered by our project team, and any actions we took in relation to them.