Post-diagnostic Support Network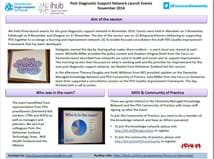 Welcome to the Post-diagnostic Support (PDS) Network page. The Network has been developed following three consultation events held in Aberdeen, Edinburgh and Glasgow in November 2016. We were pleased to welcome 140 delegates to the events with representation from link workers, CPNs, Managers and Social Work.
The purpose of the network is to share good practice, exchange ideas and foster contacts between staff with aim of improving practice. There is information about upcoming events and resources. As part of the network you will receive our PDS Newsletter and updates.
Join the Network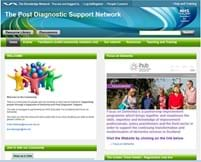 Click here to join the Network and view the PDS Network Pages on the Dementia Managed Knowledge Network.
Opportunities for Networking
There is an opportunity for PDS practitioners to come together to network at face to face events and webinars. For more information and to access resources from our previous events visit our Managed Knowledge Network page. 
Get in touch
We need your case studies, ideas and commitment to grow the network and help it flourish, so please get involved - it is your network!
E-mail us at hcis.focusondementia@nhs.net