Developing the HUG Model of Family Integrated Care
NHS Greater Glasgow and Clyde
Helping Us Grow
Family Integrated Care (FIC) is an innovative model of neonatal care that supports families to be primary caregivers for their baby, in partnership with the clinical team.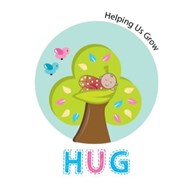 Helping Us Grow (HUG) is a unique collaborative of neonatal staff and families, working together in the Neonatal Unit at Glasgow's Royal Hospital for Children to develop their model of FIC.
A grant from the ihub's improvement fund is giving key staff dedicated time for rigorous testing and measurement of the HUG models processes and outcomes, with the aim to support 100% of families (or carers) in the Neonatal Unit to be primary caregivers for their baby by June 2019.
"With the support of the ihub's Improvement Fund our HUG Co-ordinators, senior staff nurse Laura McPhee and Nursery Nurse Donna Roberts, are assisting our team to implement and evaluate the impact of our work, and to share our approach with other health and social care teams.  We have successfully developed our FIC Dashboard, incorporating electronic surveys for families and staff, and Snapshot process measures (examples below).  These are allowing us to measure the impact of our work and identify areas for ongoing improvement using new and novel ideas co-developed by staff and patient-families.
Our approach to patient-centred care and changing workplace culture has been gaining wide interest.  We have been delighted to host visits from Scottish Government, local and national healthcare teams, as well as international visitors from the IHI Summer Camp, Israel, and North America. 
Our work featured in Practising Realistic Medicine, the Chief Medical Officer for Scotland's 2018 report, and the British Medical Journal, November 2018."
- Neil Patel, Project Lead and Consultant Neonatologist, Royal Hospital for Children
Next Steps
The next phase will see the team continue collecting and using their data to identify key areas for improvement, test new ideas for change and evaluate the impact. This data is already providing important insights into which areas of FIC require focus as the project develops.
You can follow HUG on Twitter and Facebook.
For further information on this project please contact: hcis.improvementfund@nhs.net
Scottish Neonatal Family Integrated Care Conference
HUG are organising the national Scottish Neonatal Family Integrated Care Conference in Glasgow. Involving Families as Carers: Sharing Success, Inspiring Change takes place on 28th March 2019 and aims to bring together neonatal staff from throughout Scotland to hear about the benefits of Family Integrated Care approach, but also to discuss how they are developing and delivering this in their units. We hope to share and inspire all of us to push on and also create consistency for families. 
Find out more and register here.