Living Well in Communities
Supporting people to live well for longer in their community
People in Scotland are living longer than ever before. Living Well in Communities works with health and social care services to enable more people with complex care needs to live well in their community for longer. We aim to:
improve support for people with long term conditions, people with frailty and people nearing the end of their life,

enable people to die well in the place of their choice, and

maximise the impact of preventative and anticipatory care to reduce pressures on carers, hospitals and community services.
Our approach
Living Well in Communities focuses on three key areas to enable people to live well in their community for longer. They are: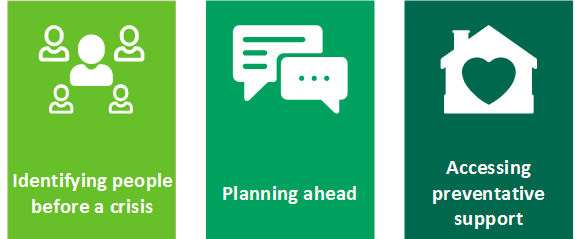 Visit the following topic pages to find out more about our approach and to access case studies, evidence reviews, guides and tools:
Our programmes
These programmes are currently under way or in development:
Further information can be found on the Our Programmes page.
Our Blog
The Living Well in Communities blog has a variety of articles on our current work and past improvement programmes.
Contact us
If you would like more information, please contact us at his.livingwell@nhs.scot