Early Intervention in Psychosis
What is psychosis?
Psychosis is characterised by hallucinations, delusions and disturbed thinking. It can cause considerable distress and disability for people affected, and for their families or carers.
It is estimated that there are approximate 1,600 new presentations of psychosis in Scotland a year. In recognition that this is a significant issue, Healthcare Improvement Scotland (HIS) is calling for applications from NHS boards to participate in a detailed exploration of current Early Intervention in Psychosis (EIP) services.
Impact
Research from previous work in Scotland has shown improved outcomes when using a bespoke model compared to a more generic model as inpatient stays can be significantly reduced, sometimes by up to 55%.
The economic benefits of EIP services are significant. The Centre for Mental Health found that patients who are supported by an EIP service, their total health care costs are 20-50% lower compared to those who receive standard care for up to five years. EIP services reduce the overall cost of mental health care per patient by £5,493 in the first year of psychosis and by £15,742 during the first three years.
Accelerator boards
We are delighted to announce that NHS Forth Valley and NHS Highland and their associated Health and Social Care Partnerships (HSCPs) have been recruited to:
map current EIP service provision,
consider how relevant quality indicator data relating to psychosis can be best collected and optimised,
what is required to improve EIP services,
what a good EIP service looks like for service providers and service users, and
create and implement an improvement plan.
They will be recruiting an Associate Improvement Adviser to work within their boards 3 days per week and within Healthcare Improvement Scotland for the remaining 2 days per week.
Early Intervention in Psychosis Network Launch Event
Early Intervention in Psychosis Improvement Network's first event was held on Thursday 5 December 2019. 
Healthcare Improvement Scotland hosted the first network event and shared how we will deliver the actions in the Scottish Government report 'Our Vision to Improve Early Intervention in Scotland'.
Please see our flash report here
Linda Hunter provided visual minutes for the day as seen below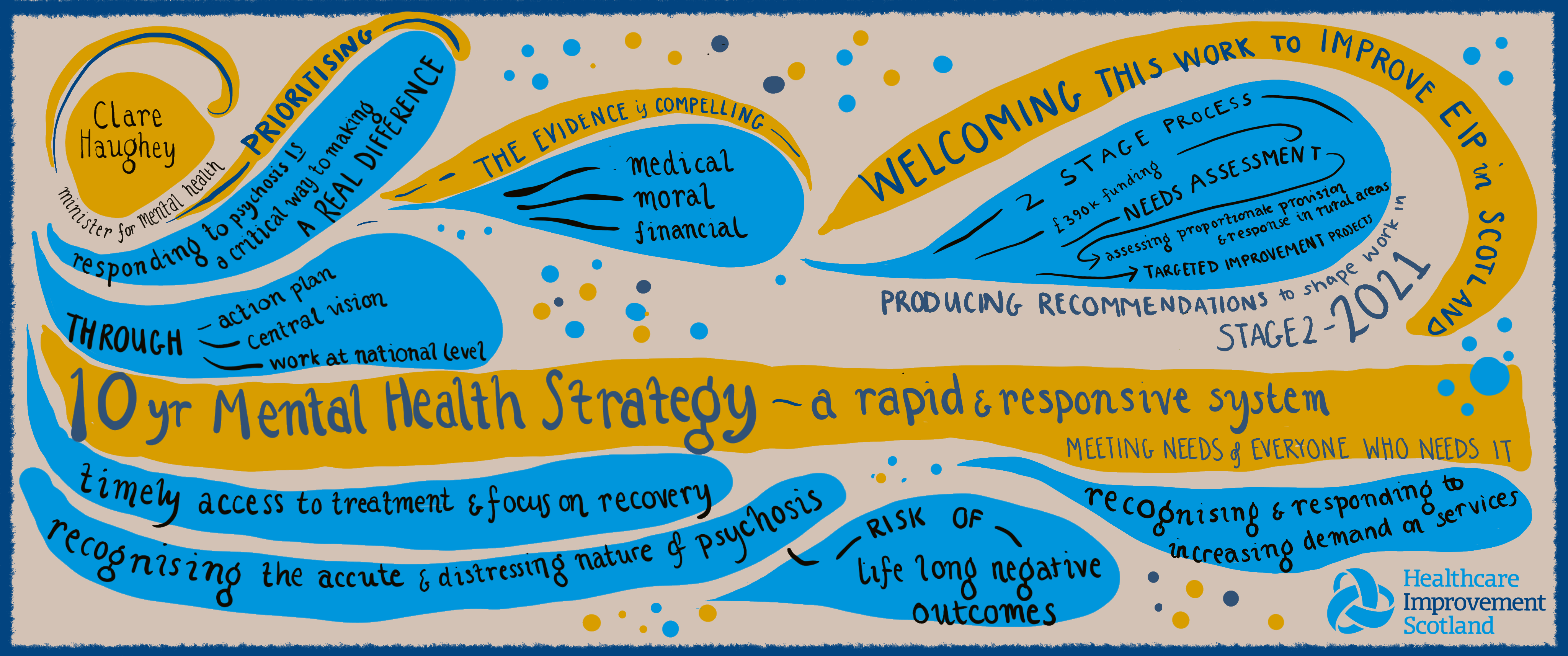 Contact the Team
To contact the team for more information about the programme, events and resources contact our inbox at