The Focus on Dementia Team are using Experienced Based Co-Design to help co-design services. This is part of the Specialist Dementia Unit Improvement Programme (SDUIP).
The following is an excerpt from Stephen Lithgow (Dementia Support and Development Lead) on this activity -
We are working with four Specialist Dementia Units in Scotland to do this. These are:
Balmore at Leverndale Hospital NHS GG&C and Prospectbank at Findlay House, NHS Lothian. Orbiston at Hatton Lea, a Bupa Care Home in NHS Lanarkshire and Strathbeg Royal Cornhill Hospital NHS Grampian.
Experience Based Co-Design uses a six stage approach to co-production (below)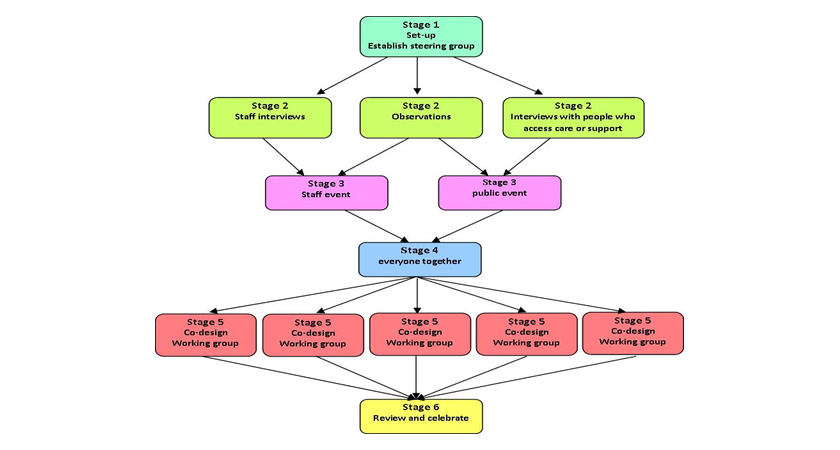 So far we are moving on to stage 3. We have undertaken a range of observations with all of the units. Prospect bank undertook observations around a specific time of day. Staff paired up during one and two hour observation periods and have described observing their own work places as a 'light bulb moment'.
We have also undertaken staff and carers conversations. Balmore made use of a garden event to engage with carers, whilst Strathbeg carers helped prioritise themes which came from their conversations. Prospectbank have developed a carer's newsletter to support the process. Orbiston have started with powerful carers videos as well.
We are also planning staff events to discuss the issues important to staff. We have also been working on communication strategies with patients (who have severe dementia) using approaches such as Talking Mats. All of us are looking forward to identifying improvement priorities in the New Year with the units. Staff feel really engaged in the process and they report the level of carer engagement has really increased.