Community Led Support
Supporting new ways of working
How do we develop services that give people choice and control?
The ihub have partnered with NDTi to support the development of Community Led Support programmes in Scotland. Community Led Support seeks to change the culture and practice of community health and social work delivery so that it becomes more clearly values-driven, community focused in achieving outcomes, empowering of staff and a true partnership with local people.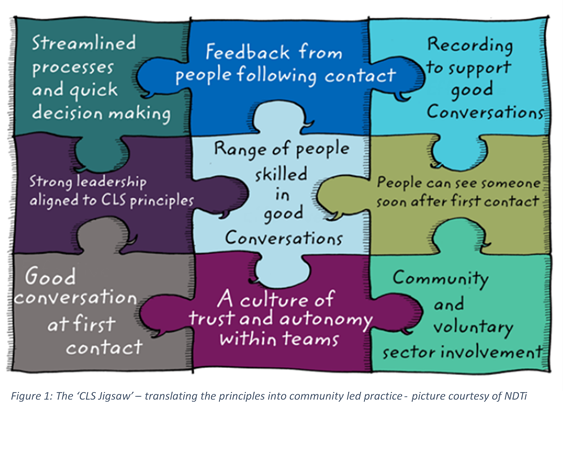 Through this partnership, ihub are able to work closely with Health and Social Care Partnerships developing CLS to facilitate conversations across different stakeholders. The ihub is working to:
spread a community-led approach to health and social care which has already some evidence of impact across the UK
support the development of good practice in community-led approaches to health and social care
align the spread of CLS alongside other change agendas within health and social care integration (e.g. implementation of SDS, Realistic Medicine, Life Curve/Frailty Index
align with wider drivers for change in Scotland – Community Empowerment, Participatory Budgeting, The Scottish Approach to Service Design, and
develop robust evidence of the benefits of a community-led approach to health and social care.
To keep up to date with the work we are doing please check in here to view our latest stories from Community Led Support sites. We will be hearing from those involved in CLS programmes and reflecting on the work being done.
Featured Video
There are currently nine Health and Social Care Partnerships in Scotland undertaking a Community Led Support (CLS) programme.

The CLS programme involves an initial 18 months of intensive support from NDTi to develop and implement a community led approach. Following this, sites become CLS network members and can continue to access bespoke support to sustain and embed this approach.

South Ayrshire, East Renfrewshire, Scottish Borders and Fife are CLS network members.

This year we are working in collaboration with the National Development Team for Inclusion (NDTi) to support the spread of Community Led Support (CLS) in Scotland. Together with NDTi we will:

capture evidence of impact and learning across the nine participating HSCPs
implement CLS in five new HSCPs in 2019, and
support the embedding and sustainability of CLS in four HSCPs.