Phase 2 of New Models for Learning Disability Day Support Collaborative
The People-Led Care team are working with four Health and Social Care Partnerships (HSCPs) in the second phase of the New Models for Learning Disability Day Support Collaborative.
Phase two runs from June 2021 to March 2022 and focusses on supporting participating teams to progress through the 'define', 'develop' and 'deliver' stages of the Scottish Approach to Service Design.
This phase builds on the learning from phase one's 'discovery' that the project teams undertook and draws from the team expertise in service design, strategic planning and quality improvement.
In phase one we worked with:
Argyll and Bute HSCP
Edinburgh HSCP
Falkirk HSCP 
Highland HSCP 
North Ayrshire HSCP 
Perth and Kinross HSCP 
Renfrewshire HSCP 
West Lothian HSCP 
Teams were invited to apply to the second phase in May 2021.  From June 2021 the following teams entered into phase 2:
Falkirk HSCP
North Ayrshire HSCP
Perth & Kinross HSCP
West Lothian HSCP
Project teams are drawn from statutory provision and other local services to support a multi-disciplinary approach to service redesign.
Phase two includes a continued focus on the themes of inequality, the involvement of people with lived experience and supporting people to live their best lives.
Programme teams are supported to utilise service design methods in their local engagement activities and a quality improvement approach to the testing and measurement of service delivery.

A summary of the work we are doing is also available in an easy read format.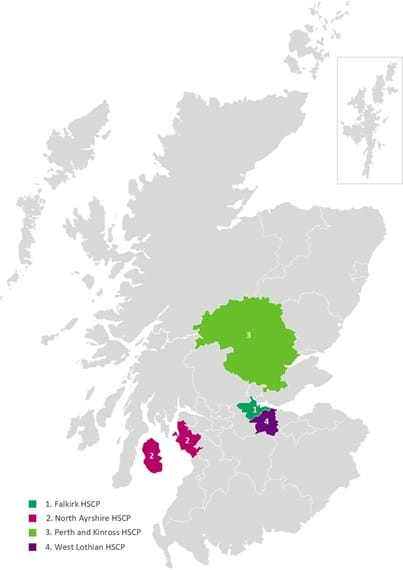 Updates and what we have found: 
Date
Summary
 Download

September
2020

Evidence Summary
January
2021
Preliminary Flash Report
February
2021
National Learning Event 1: Learning from COVID-19
March
2021
Phase 1 Feedback Flash Report
May
2021
National Learning Event 2: Learning from COVID-19
June
2021
National Focus Group Findings
September
2021
National Learning Event 3
November
2021

Phase 1 Learning Report
New Models for Learning Disability Day
Support Collaborative

December
2021

Phase 2 Evidence Review

National Learning Event 4
In the Tools and resources section you can find examples of the methods and tools we have used and the content from our national events.
Interested in this collaborative?