Working in Partnership: Improving team wellbeing by identifying and supporting unpaid carers in the Edinburgh Hospital at Home service
Summary
Hospital at Home (H@H) is a national short-term, targeted intervention that provides a level of acute hospital care in an individual's own home that is equivalent to that provided within a hospital. Following reports by H@H team leads of signs of carer stress when the patients they cared for were sent home, the Unpaid Carers Improvement programme worked with the Edinburgh H@H team to improve how carers of patients in the H@H programme were supported.
In this impact story, we consider how the Edinburgh H@H team were able to work in partnership with local carer leads and organisations to better identify and support unpaid carers.
Background
The Carers (Scotland) Act 2016 requires that health services identify, involve and support unpaid carers who are supporting patients at home.  Healthcare Improvement Scotland's Unpaid Carers Programme aims to improve the implementation of the Carers Act across health services through targeted improvement support, sharing learning and producing resources.
The H@H team leads had reported staff concerns about signs their patients' carers were stressed and had little or no support. The Unpaid Carers Programme offered to work with a test site on this issue with targeted improvement support, and the Edinburgh H@H team took up the opportunity to work with our Improvement Advisor.
The Improvement Advisor facilitated links between the Edinburgh H@H Team and the Edinburgh Carer Support Team (ECST), who are dedicated to providing support to carers while patients are in hospital as well as after discharge.  These teams were introduced and an agreement was made with regards to how the ECST could support both H@H by taking referrals and unpaid carers by offering support.
Approach
1. Project Team
| | | |
| --- | --- | --- |
| Role | Team | Activity |
| Chief Nurse & Senior Nurse Practitioner | Edinburgh H@H | Quick decision-making |
| Carer Co-ordinator | Edinburgh H@H | Dedicated carer-focused role |
| Manager & Senior Support Worker | ECST | Provision of support and signposting for carers eg. legal, wellbeing, practical, etc |
| Local Improvement Advisor | Edinburgh H@H | Real-time data collection |
| Improvement Advisor | HIS | Strategic oversight alongside team leads, asking challenging questions |
2. Referrals process
For the referrals process, the ECST received referrals from the H@H team via the H@H Carer Co-ordinator. These were screened, then ECST provided direct support or referred carers to appropriate local or condition-specific carer support services provided by contracted third sector organisations.

3. Traffic light system
The H@H Carer Co-ordinator developed a traffic light system for the white boards, which were visible to all staff and kept them informed on progress for the carer. This gave the wider team assurance that the carers they had identified had been referred and were being supported.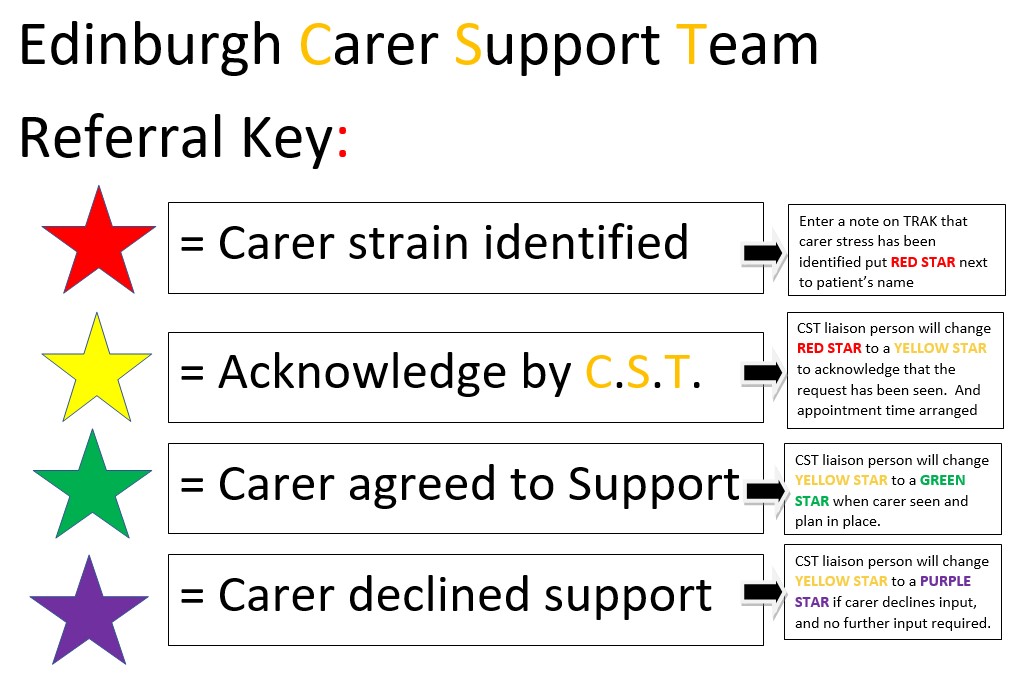 4. Raising awareness
The H@H Carer Co-ordinator undertook training offered by the ECST to become fully briefed in carers rights and how best to support carers. They were able to raise awareness amongst the team at morning huddles and how to approach carers, leading to conversations which might identify carer concerns.
The H@H team were also surveyed to find out how confident they felt recognising carer stress. Results showed some variation and as a result, a Carer Stress Identification Standard was devised. Furthermore, learning was shared across the team to raise overall skills and confidence.
5. Measuring improvement
A NHS Lothian Improvement Advisor joined the project and supported the local development of a measurement plan and data collection.
Findings/Learnings
In this section we consider the key enablers which helped the improvement project to succeed. 
1. Project team membership
Everyone had a clear and vital role to play in either approving a change idea, implementing it, collecting data on the impact and asking challenging questions to keep the project on track and showing improvements.
2. Common understanding of signs of carers stress
Taking the time to share skills and knowledge about what carer stress might look like improved team confidence and led to appropriate referrals for support. Carer stress indicators were identified as carers reporting or appearing to have:
feelings of hopelessness and sadness,
not engaging - closed body language,
physical symptoms of poor sleep, headaches, stomach problem,
irritability, lack of concentration, and
decline in taking care of self and wellbeing e.g. neglected personal needs such as food and hygiene, harmful coping mechanisms such as excessive alcohol consumption.
3. Timely data and feedback collection
Feedback on the learning was given to staff in real time, kept everyone engaged and keen to continue as they could feel the impact on themselves and their carers.
4. Visibility of progress with identified carers
Progress with each carer was tracked using a traffic light system, from identification to referral and to receiving support. Making this progress this visible on a whiteboard for the whole team to see ensured that carers were not missed and reassured staff to know that carers were being identified and support continuing post-discharge from H@H.
Impact
By working together, the Edinburgh H@H Team and ECST developed a system and processes which supported the consistent identification of carers under stress and referral of those carers for support. Staff reported feeling better, knowing that their patients were supported where it was needed.
The impact of the interventions was highlighted though feedback from staff and unpaid carers.
Stakeholder
Impact
Impact on carer

The Carer Co-ordinator used an Emotional Touchpoints tool to gather carers feedback regarding the support they received from the Edinburgh H@H team and the ECST
Carers reported that they felt seen, listened to, supported and understood

Impact on staff

Feedback was collected via staff surveys during the first two months of the project, at team huddles, before and during planned interventions
Comments reflected an improvement in staff wellbeing as a result of identifying and knowing there was support for carers
In the first survey, only 14% of staff reported that they 'always' identified carers. By the second, 42% reported that they 'always' identified carers
In the first survey, 28% said they did not feel that they dealt with carers stress once identified, but by the second survey, 67% felt they did

Impact on system

There are early indications that the length of time a patient is kept open for (current average 5 days) is shorter as a result of improved practitioner confidence that the carer is being supported after discharge and can cope with the patients' needs. Further analysis is being undertaken
My day was brightened this morning by your friendly calm voice and what seemed to me a genuine interest in the situation. It was greatly appreciated. I was acknowledged as an individual person, not just my parent's carer. You have no idea how refreshing that is and how much it meant" Feedback from Unpaid Carer
Acknowledging carer stress in the past, but being unfamiliar with support available, did not sit easily with me. The knowledge that there is now a mechanism in place for post discharge support/follow up ensures that I can let go of patients that I have become emotionally invested in." Feedback from Hospital at Home Practitioner
Next Steps
The project team intend to build on their work through the following:
monitor robustness of identifying carers needing support,
recruit additional Carer Co-ordinator, to support existing one and ensure referral process to Carer Support Team is sustainable,
regular measurement of wellbeing in Edinburgh H@H Team,
monitor H@H understanding of Edinburgh Carer Support Team role and legal requirements under the Carers (Scotland) Act 2016, and
further support for carers to understand their caring role.