Quality Improvement
The quality expert Joseph Juran stated that to attain 'quality' there needs to be a clear vision for an organisation. Juran's quality management approach describes the delivery of this vision as a consequence of three interlinked processes: Quality Planning; Quality Improvement and Quality Control and are explored further in the sections below.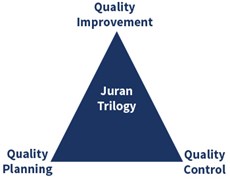 Quality planning is considered at different levels and, in the context of primary care in Scotland, this would be at:

National (Scottish Government/HSCP) level
Local (Locality/Cluster) level
Practice level

 

National Level

The following are links to some of the key policies and strategies currently influencing the national landscape:

A National Clinical Strategy for Scotland

Health and Social Care Delivery Plan

A Route Map for the 2020 Vision

The 2018 GMS Contract for Scotland

National Health & Wellbeing Outcomes

Local Level

At this level planning focuses on understanding local population health needs and the preparation of Cluster Quality Improvement Plans (CQIPs) which then influence the development of local HSCP Primary Care Improvement Plans.

Cluster level CQIPs could consider:

Improvement in efficiencies – better prescribing/reviewing referrals & admissions rates
Improvement in services - better access
Specific local quality initiatives based on local population needs and commissioning of locally defined solutions/services to improve patient experience for example, multidisciplinary team (MDT) development, Pharmacotherapy services, Vaccination transformation programme, community treatment and care services, Community Links workers, Mental Health practitioners, Musculoskeletal physiotherapists, Advanced Nurse Practitioners (ANPs)

 

Practice Level

At this level Practices could develop PQIPs to help drive practice improvement in areas such as:

Improvement in practice-based patient care (such as diabetes/asthma)
Improved access to practice
Better planning for complex care (such as Anticipatory Care Planning (ACP))
Practice-specific quality initiatives (such as care navigation/workflow optimisation)

The following are links to resources which can support Quality Planning at a both Local and Practice Levels:

Scottish Public Health Observatory

National Telehealth & Telecare Delivery Plan

In collaboration with NHS Education for Scotland, a range of new educational materials and taught programmes for QI targeted at GP clusters is currently under development.

Click on the Quality Improvement Zone for access to the current range of resources available to support you with your Quality Planning activity.

To support the delivery of the QI process, Scottish Government has commissioned Healthcare Improvement Scotland (HIS) to develop its support for GP clusters. In 2018-19 this will include:

An expanded scope to its primary care specific improvement programmes, planned on needs of clusters in association with HSCPs and NHS boards. This will build on the existing successful Scottish Patient Safety Programme in Primary Care to support all dimensions of quality: safe, person-centred and effective.
New support for clusters to participate in and inform Strategic Commissioning
Additional evaluation support for clusters.
Additional literature review and synthesis support for clusters.
The development of a National Learning System to support GP clusters through their improvement pathway.

 

In collaboration with NHS Education for Scotland, a range of new educational materials and taught programmes for QI targeted at GP clusters is currently under development.

Click on the NHS Education for Scotland TURAS: Quality Improvement Zone and Patient Safety Zone for links to current resources.

Context for Successful Quality Improvement

Quality Improvement Made Simple: Health Foundation

RCGP: Quality Improvement Guide

RCGP: QI ready tools, resources and learning modules

RCGP: Daffodil standards RCGP and Marie Curie UK General Practice Core Standards for Advanced Serious Illness and End of Life Care.

The 2022 GP Vision for General Practice in the Future NHS

Embedding Culture QI: Kings Fund

Learning From Adverse Events

This is crucial to continually improve person-centred, safe and effective delivery of care. In turn, this contributes to achieving Scotland's 2020 vision of sustainable, world-leading and high quality health and care services. The national framework for learning from adverse events aims to support healthcare professionals to standardise processes for managing and learning from adverse events.

The new statutory Organisational Duty of Candour was implemented on 1st April 2018. This new legislation requires all health and social care providers to be open and honest when there has been an unexpected event or incident which has resulted in death or harm, that is not related to the course of the condition for which the person is receiving care. The principles of candour already inform the approach that is taken in many organisations and will further enhance the learning that can be achieved from adverse events.

The Healthcare Improvement Scotland Adverse Events Programme has been supporting health organisations to prepare for the implementation of Duty of Candour in a number of ways. This includes working in collaboration with NHS Education for Scotland to develop the Duty of Candour online learning module as well as the roll out of eight national Complaints and Duty of Candour events.

Two new Duty of Candour pages have been created within the Adverse Events Community of Practice website. These pages encourage colleagues to share approaches/policies/processes/tools under development to facilitate collective knowledge and a collaborative approach (one page is secure to allow confidential sharing of policies under development).

The 2018 General Medical Services contract in Scotland states that:

GP practices will participate in a cluster quality peer review process, whereby their quality improvement activity and quality data will be reviewed by their local GP cluster with support offered as appropriate. That support could take the form of written advice and/or a supportive practice visit from peers and a local manager.

The Healthcare Improvement Scotland Quality of Care Approach will involve an increased emphasis on local systems of assurance. Service providers will use the quality framework domains to evaluate the quality of care they provide and identify areas for local improvement work. As GP clusters mature, practices and clusters will be expected to take part in the peer-led values driven assurance process. The methodology for this will be negotiated by the Scottish Government and SGPC.

More information and guidance on the practical implementation of these assurance activities will follow.
Quality Improvement courses (online)
There are six foundation level and two practitioner level modules, which provide a basic introduction to the widely used improvement methodology, to support the use of continuous improvement in the community pharmacy setting. Undertaking these modules will help to ensure that pharmacists have the knowledge, skills and ability to support their teams to embed continuous improvement into their day-to-day practice. Each module should take one hour to complete.  
Staff working at foundation level will be functioning as part of a team to improve service delivery in their own workplace. Foundation learning resources introduce staff to widely used improvement methods to help support them achieve the outcome they are aiming for.The foundation level modules are:
Staff working at practitioner level will be leading a team to improve service delivery in their own local workplace.  Practitioner learning resources will support development of a clear understanding of a range of improvement methods to improvement service delivery at local level. Staff working at practitioner level will include people working in support services, such as administration, finance estates and facilities and staff working in clinical settings.The practitioner level modules are:
Primary Care Improvement 
Existing resources to support quality improvement in primary care are available in the links below:
SPSP Dentistry in Primary Care
Reducing Pressure Ulcers in Care Homes
GP Practice Administrative Staff Collaborative