Overview
The Practice Administrative Staff Collaborative (PASC) was launched in February 2018, to support the development of practice administrative teams and improve GP practice processes. The collaborative focused on reducing the amount of time GP's spend on correspondence management, and improving care navigation to direct patients to the most appropriate source of help or advice, thus improving the overall outcomes and care experience for people, families and staff.
Following a competitive recruitment process, four teams from six Health & Social Care Partnerships (HSCPs) joined us on this improvement journey:
Argyll & Bute HSCP
Clackmannanshire and Stirling & Falkirk HSCPs (joint application)
East Lothian HSCP, and
South Lanarkshire & North Lanarkshire HSCPs (joint application).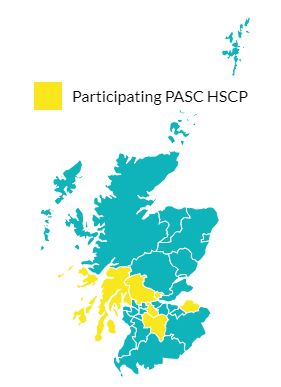 Each team involved a selection of GP clusters, participating in a range of quality improvement activities.
Throughout this collaborative, the Primary Care Improvement Portfolio Team drew upon the vast expertise of the wider primary care workforce supporting GPs in Scotland.
A series of learning sessions and webinars at local and national level were held throughout the Collaborative to support this network and to share learning across Scotland. Please visit the Events section of the sidebar for further information.
A Workflow Optimisation Digital Toolkit, and accompanying motion graphic, have been created to support practice teams to develop, test and implement processes to improve their correspondence management. A link to the Toolkit and motion graphic can be found here:
Workflow Optimisation Digital Toolkit
A Care Navigation Toolkit is in the final stages of production, and will be distributed to all GP practices in June 2019, as well as a digital toolkit that will be hosted on this webpage.
In addition to the Toolkits, a further selection of tools, resources and reports are available to view and download in the sidebar. We encourage users to check this webpage regularly for updates.
Follow the Practice Administrative Staff Collaborative conversation on Twitter:
@SPSP_PC and tweet us using the hashtag #PASC
Should you have any questions regarding the Collaborative, please contact hcis.pcpteam@nhs.net