Why use quality management?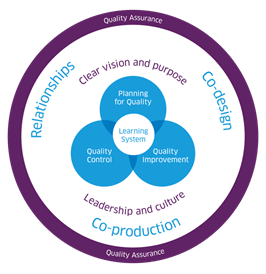 To create a coordinated and consistent approach to managing the quality of what we do across the whole health and care system …with the ultimate aim of delivering better population health and wellbeing, better care experience, better value and better staff experience.
The ihub's Quality Management Portfolio is a portfolio of work offering high-level interventions to support boards and partnerships enhance their quality infrastructure
Navigate to our individual sections
What is quality management?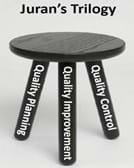 There are three main aspects to quality management traditionally.  The Juran Trilogy of quality planning, quality improvement and quality control.
Our exploration of quality management across Scotland showed that for many the quality trilogy felt like a 'wobbly stool'. Effective quality management requires us to get the balance right across the three legs of the trilogy.
There is a belief that quality control is overly focused on external scrutiny and that there is a lack of effective quality planning.  Quality improvement capability is increasing nationally but it requires the other 'legs of the stool' to be in place for scale up and spread.
In Healthcare Improvement Scotland we set out to address this need.  Building on the Juran Trilogy we created a framework to build a common understanding about what needs to be in place at different levels to ensure effective management of the quality in health and social care.
Building on evidence and our own research we have included additional components necessary to manage quality in health and social care.
Click here and on the diagram to find out more.
Moving from Quality Improvement to Quality Management
The impact of Scotland's commitment to quality health and care services can be evidenced through the track record of improving quality, with over a decade of building knowledge and skill in the application of Quality Improvement (QI) methodology. This has led to sustained improvements in outcomes and experience for people receiving and delivering care.
Whilst QI is vital, it is not sufficient on its own to ensure reliable delivery of high-quality care. With this understanding and consideration of the current financial climate and workforce challenges, Healthcare Improvement Scotland (HIS) developed a Quality Management System (QMS) framework that would enable a systematic approach to the management of quality at every level of the system.

This document has been developed to increase awareness and understanding of the thinking and theory behind our QMS Framework.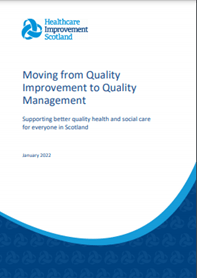 The ihub has been working with partners to develop a common framework for quality management across health and social care that could be applied at a national, NHS Board and Integration Joint Board level. It is important that HIS walks the talk, therefore our team will support HIS to apply this work to ourselves.  Carrying out this work internally will help us learn from experience, increase our awareness of what our partners and "customers" are experiencing and increase our credibility to those with whom we work.  For successful quality management, simultaneous interventions are required at various levels of the organisation.  We will work with the board as it has a key role in creating the organisational culture and infrastructures that enable successful management of quality and also at team level. Embedding good quality management requires a drive at the micro level.  We will do this via an internal breakthrough series collaborative. 

Though this work sits within the Quality Management portfolio it has reach across the whole of HIS as enabling a standard approach to quality management across our teams to aid cross organisational working.

Scottish Improvement Leads Commission

Commission 'lead' level quality improvement programmes from NHS Education for Scotland and promote skill development in social care, third and independent sector. The Scottish Improvement Leader (ScIL) programme is a key part of Scotland's innovative approach to address increasing demand for lead level Quality Improvement capacity and capability across our public services. It develops individuals who are in key roles to be able to design, develop and lead improvement initiatives, generate support for change and provide expert support and advice.

The ihub sponsors a number of places on the programme, with ScIL open to participants from NHSScotland, Scottish Government and Executive Agencies, the Early Years Collaborative and the Raising Attainment for All Programme.

Continuous Quality Improvement Allocations

Since taking over from Scottish Government in 2016, Healthcare Improvement Scotland's ihub has been responsible for allocating Continuous Quality Improvement (CQI) funds to NHS Boards. The purpose of the allocation is to support strategic, targeted approaches to improving quality and efficiency. 

The need and impact of the funding is clearly shown as boards increasingly report the establishment of systems and structures to support QI capability and capacity. These types of developments strengthen the overall QI infrastructure within Scotland's health systems, and social care services moving forward.

The ihub's improvement networks aim to work collaboratively across all sectors to further enhance the reach and connections of people to come together to focus on a common purpose, themes or issues.  Through the exchange of knowledge, ideas and information we aim to increase the pace of improvement work across Scotland.

We all link in to personal and professional networks that support us to connect around similar interests. The complexity of health and social care presents opportunities for cross sector networking to supports knowledge exchange, networking and shared learning.

We also support and facilitate the Q in Scotland community