Scoping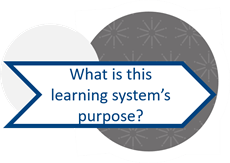 What is this learning systems purpose?
Learning systems take a lot of work and resource so they must have a clear purpose. Consider how you will tackle inequalities from the outset, and embed this into your aim.
It can be useful to outline a goal for the entire population and a specific improvement targeting a subpopulation.
If your group has a broad or general scope it is likely that a network remains the best way to connect. 
Questions to strengthen the equity of an aim:
what: What is the clinical or process improvement of interest? Is improvement aligned with the strategic interests of the organisation and other QI efforts?
for whom: Which group is affected by unequal or disparate care? Is there a best-performing group with which they can be compared either locally or using a regional or national benchmark?; and
how much and when: What is your disparity reduction goal and by when do you hope to achieve it?
Source: Equity, health inequality and quality improvement, (Healthcare Improvement Scotland, Dec 2020) quoting the Center for Health Professionals, 2012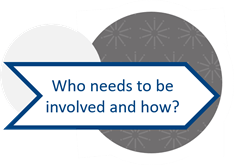 Who needs to be involved and how?
A learning system should be flexible to the needs of different populations, the best way to do this is through co-design.  The learning system's purpose will impact who to involve. Revise and refresh both as focus changes.
"We believe that engaging people and communities in decisions about health and care services improves things for everyone. It's the right thing to do" Community Engagement, HIS
Our research shows that it makes services safer and more efficient. An important part of HIS' role is to encourage people from all sections of society to get involved in our work. An invitation is not enough, we need to consider how to really involve people. Good co-design builds on a full range of perspectives – not just those who speak loudest – and this requires effective planning.
Effective planning is essential if engagement is to be meaningful.
The HIS Community Engagement directorate outline a series of questions to help guide participation:
why are you engaging with people?
what do you need to know?
who should be involved?
when is the best time to engage?
where is the best place to engage?
how should you engage?; and
what next?
Source: Participation Toolkit, Healthcare Improvement Scotland
The HIS Community Engagement website has toolkits and techniques for participation.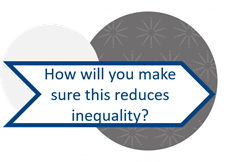 How will you make sure this reduces inequality?
Review the impact on inequality at each point of the learning system's life cycle. An equality impact assessment (EQIA) will help identify disadvantages and mitigating actions. Measure inequalities from the outset, including unintended consequences of your work ("balancing measures"). Appreciate the size of the likely impact, stratify data e.g. "most deprived" and "least deprived". The more we understand sub-populations the more we can tackle inequality.
"A good way to develop meaningful balancing measures is to listen to what the sceptics are saying and design measures to capture their predictions." Evidence and Evaluation Team, HIS
Consider the following questions:
who might be able to help you to identify population-level needs and their impact on your service users?; and
who might be able to support you to review current evidence and how it applies to inequalities?