Supporting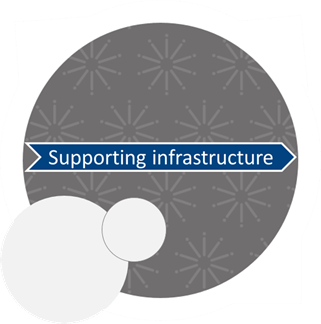 Plan activities, timeline and budgets
Approach the development of a learning system in the same way you would a typical project. It needs much of the same project planning, budgeting and management, with flexibility to deviate from the original plan. As groups learn they may "go back" to that start, but this is time better informed and with greater clarity of purpose.
Consider the following questions:
how is each component relevant to your topic?
what activities would best support the learning in each area?
what do you already do that will support this work?
what will your stakeholders respond well to?; and
how can you target your effort?
Assess readiness and workforce support required
Assess the feasibility of the project before beginning a learning system. Learning systems speed up improvement but only if there is capacity in the workforce, improvement capability and resources. Address gaps in these areas as a priority. If this is not yet possible it may be that a network is a better first step. A learning system becomes workable in the medium term once the right conditions are in place.
Some of the considerations for readiness include:
board understanding and supporting governance structures
staff engagement with the issue
staff understanding of quality improvement (QI) and quality management system (QMS); and
a business case demonstrating why this work merits resource
Source: Building the Foundations for Improvement, The Health Foundation 
Connect to organisational/national priorities
Make clear connections to strategy and links to national outcomes. Make connected data available. Showing how work can impact on a larger goal can increase momentum and bring people together. It will also strengthen business cases to justify resourcing.
A learning system without connection to strategy is inappropriate and would detract from agreed priorities.
Make it easy to participate
Use infrastructure to make participation easier.
Create resources to help day to day learning.
For instance:
develop templates to capture data and enable sharing
organise and facilitate workshops
identify those with similar issues and connect them
show how the work is relevant to senior management and boards; and
"package up" emerging learning to influence policy and decision makers
There are a range of contextual factors which may impact a stakeholder group's ability to take part. For instance: environmental, infrastructure, community, sociocultural and/or gender factors.
These factors are complex and often interconnected. These conversations need early and meaningful discussion with user groups, communities and representatives from a range of disciplines and professions.
Develop tools and documentation
As a national organisation HIS is well placed to collate the range of information across Scotland (and beyond) and synthesize it in a way which is meaningful and accessible. Development should not be done in isolation and must reflect the breadth of learning and proving we are connected to. The creation of tools and is a valued benefit of engaging with us and will be a key enabler of any learning system.
Good documentation and management of information makes it easier for people to be kept up to date, aware of policy and emerging good practice.