Reducing Stillbirth in Scotland
Scottish Patient Safety Programme (SPSP) maternity care have a stretch aim to reduce stillbirth by 35% by 2019. From inception of the programme in 2013, Maternity and Children Quality Improvement Collaborative (MCQIC) have supported a national aggregated reduction by 22.5%. The process measures to achieve this aim are designed around:
Fetal Growth
Fetal Movement
Fetal Monitoring
Tools and Materials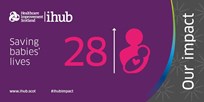 Supported by SPSP MCQIC, Scotland has achieved a 22.5% improvement in the rate of Stillbirths since 2014. In 2017, 28 more babies who might otherwise have been stillborn, were born safe and well compared to 2013. This means that 28 more sets of parents, grandparents, brothers and sisters welcomed home their new baby to their family. 
We track National Records for Scotland (NRS) data converting into data for improvement See the latest aggregated stillbirth rate published in September 2018                   

Tommy's Research
 Standardised written Information on fetal movement
Giving written information specific to fetal movement helps pregnant women have the confidence to report to health professionals when they have concerns. Tommy's research have launched a leaflet with key messages for movement. SPSP maternity care are encouraging all boards to issue this to pregnant women and their families. Click the link above to learn more about leaflet.