Workstreams
The Scottish Patient Safety Programme (SPSP) Acute Adult, part of the ihub's acute care portfolio, aims to reduce harm and mortality for people in NHS Scotland's acute hospitals.
SPSP Acute Adult works with clinical and improvement teams in NHSScotland boards to develop, test and implement processes that will further improve reliable care delivery across a range of clinical areas.
The Acute Adult programme supports boards to work on reducing harm from Deterioration, including Sepsis and Acute Kidney Injury, Falls, Pressure Ulcers, and CAUTI.
Measurement and Reporting
Overarching aims have been developed to support each of the key themes, with supporting outcome measures in relation to each specific topic area. NHS boards will set locally-specific aims against the outcome measures based on existing baselines.
Testing, implementing and measurement of process changes are essential components of efforts to improve outcomes. National data reporting focuses on key theme aims and supporting outcome measures. Support for the use of process measures focuses on guidance of potential measures and, where required, advice on how to use them.
Impact
Since its launch in 2008, the Acute Adult programme has contributed to a significant reduction in harm and mortality to acute adult inpatients through: 
introduction and development of quality improvement methodology through testing of focused safety interventions,
testing and implementation of leadership activities that provide organisational support for safety,
building of capacity and capability within clinical and non clinical roles,
tangible patient impact on patient outcomes through reduction of infection rates such as Ventilator Associated Pneumonia and Central Line Bloodstream Infections,
widespread implementation of safety briefs, daily goal setting in ICU and surgical brief and pause,
transition of now well-established interventions from improvement to day to day care through the Patient Safety Essentials,
reduction in common harms such as Falls and Pressure Ulcers, and
improvement in the treatment of Deteriorating Patients and Sepsis which has contributed to reductions in cardiac arrests in general ward settings and mortality from sepsis.
An Acute Adult 'infographic' has been developed by Healthcare Improvement Scotland to summarise  why continuous improvement is so important.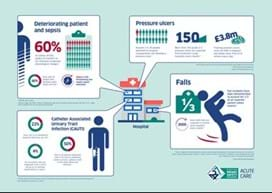 Additional information and data can be found below and in the member's area (add link). (N.B. Access to this portal requires registration and is currently available to NHSScotland staff only).
 

Fiona Elizabeth Agnew Trust (FEAT)

FEAT was founded in memory of the late Dr Fiona Agnew and her daughter Isla, who both died after contracting Sepsis in August 2012.
Sepsis arises when the body's response to an infection damages its own tissues and organs. It can lead to shock, multiple organ failure, and death, especially if it is not recognised early and treated promptly. Sepsis kills 37,000 people in the UK every year and is the acute bodily reaction to infection.For more information visit, www.featuk.org.uk/

---

UK Sepsis Trust

The UK Sepsis Trust (UKST) was established as a charity in 2012 with the objective of saving 12,500 lives every year. UKST is committed to changing the way the NHS deals with Sepsis, to increasing public awareness and supporting those affected by Sepsis. For more information, visit sepsistrust.org/

---

Scottish Partnership for Palliative Care

The Scottish Partnership for Palliative Care is an umbrella and representative organisation which, through a collaborative approach, supports and contributes to the development and strategic direction of palliative care in Scotland. For more information, visit www.palliativecarescotland.org.uk/

---

Health Foundation

The Health Foundation is an independent charity working to improve the quality of healthcare in the UK by supporting people working in healthcare practice and policy to make lasting improvements to health services.  The Foundation's work is focused on two priority areas: Patient Safety and Person-Centred Care.  The Foundation carries out research and in-depth policy analysis, runs improvement programmes to put ideas into practice in the NHS, support and develops leaders and share evidence to encourage wider change.  For more information, visit www.health.org.uk.

---

Health Protection Scotland (HPS)

Health Protection Scotland (HPS), a division of NHS National Services Scotland, was established by the Scottish Government in 2005 to strengthen and co-ordinate health protection in Scotland. HPS plan and deliver effective and specialist national services which co-ordinate, strengthen and support activities aimed at protecting all the people of Scotland from infectious and environmental hazards.  For more information, visit www.hps.scot.nhs.uk.

---

Institute for Healthcare Improvement (IHI)

The Institute for Healthcare Improvement (IHI), an independent not-for-profit organization based in Cambridge, Massachusetts, is a leading innovator, convener, partner, and driver of results in health and health care improvement worldwide.  IHI's work is focused in five key areas, one of which is Patient Safety.  For more information, visit www.ihi.org.

---

NHS Education for Scotland (NES)

NHS Education for Scotland are a special health board responsible for supporting NHS services in Scotland by developing and delivering education and training for those who work in NHSScotland, and have worked closely with Healthcare Improvement Scotland to develop a number of the tools used in the Scottish Patient Safety Programme.  For more information, visit www.nes.scot.nhs.uk.

Below you will find links to tools and resources relating to the Acute Adult programme.

National Early Warning Score (NEWS)

The Scottish Patient Safety Programme is encouraging the use of the National Early Warning Score across Scotland.


NEWS is an evidence based tool to support recognition and response of acute physiological deterioration which is recommended by the Royal College of Physicians.

Acute Adult Measurement Plan

This measurement plan supports national reporting of outcome measures relating to harm reduction, including medicines, which are routinely reported as part of board engagement with SPSP Acute Adult.

Follow us on Twitter: @SPSP_AcuteAdult and @ihub_AC

To make an enquiry please contact hcis.acutecare@nhs.net