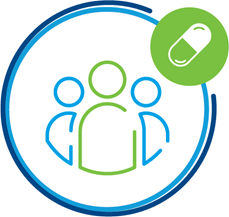 Applications for our Pharmacotherapy Level 1 collaborative are now closed!
No further applications will be accepted. We have received an overwhelming response to participate in the Pharmacotherapy Level 1 collaborative and would like thank everyone who applied.
Applications will now be reviewed, with all Health and Social Care Partnerships (HSCPs) notified of the outcome of their application week commencing 2 September 2019. 
For those of you who are successful, we look forward to working with you and will be in touch shortly with further guidance. For those who have not been successful, thank you again for your interest and please continue to follow activity on our twitter page and here on the webpage, as our collaborative progresses.
The aim of this collaborative is to support the development of staff quality improvement (QI) skills and improve GP practice processes to support the implementation of Pharmacotherapy Level 1 Services within GP practice teams.
What is Pharmacotherapy Level 1 Services?
The introduction of pharmacotherapy services within GP practices in Scotland is one of the priorities for the transformation of primary care over the next three years. By 2021 pharmacists, pharmacy technicians and assistants will be embedded members of the GP practice teams delivering core and additional elements of the pharmacotherapy service. This is to allow GP's to spend more time with patients and refocus their role on being expert medical generalists as outlined in the 2018 General Medical Services contract in Scotland (GMS 2018).
This collaborative will support the development of practice administrative and pharmacy teams to improve GP practice processes, by adopting and adapting the learning and resources developed in the Practice Administrative Staff Collaborative (PASC) Phase 1.
What are we trying to achieve? 
The focus for implementing Pharmacotherapy Level 1 services will be on performing the selected tasks below:
Acute/repeat prescribing
Discharge letters
Medicines Reconciliation
The aim is to improve the overall outcomes and care experience in primary care for people, families and staff.
Anticipated impact
Following evaluation of PASC Phase 1 it is anticipated that this collaborative will:
manage correspondence in a safe and efficient manner
reduce the number of documents requiring GP involvement
release GP time to focus on their expert medical generalist role
ensure processes are in place so medicines related activity can be dealt with by the most appropriate member of the pharmacy team in a timely, safe and efficient way
support the development of practice staff roles
ensure multidisciplinary practice staff are further supported to develop and extend skills in fields such as QI clinical coding
Further information on the impact can be found in the specification document. 
Key dates
Collaborative activity
Date

Applications open

Wednesday 10 July 2019

Closing date for application

Friday 23 August 2019

Successful applicants informed

w/c 2 September 2019

Inaugural steering group meeting

October 2019

National Learning Session 1

Steering group meetings

Data collection

Ongoing testing of resources and learning

November 2019 - February 2020

National Learning Session 2

April 2020
Showcasing Event 
September 2020