Omitted Medicines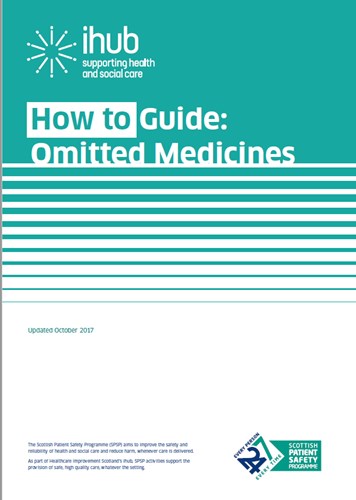 Omitted medicines can have a significant impact on patients in terms of loss of therapeutic effect and risk of deterioration, particularly for 'critical medicines'. Opportunities for medicines to be omitted can occur at many stages of the medicines management pathway. Examples include incomplete medicines reconciliation at points of transfer, errors in the transcription of medication charts in care settings, medicines not administered to patients as prescribed in care settings and patients not continuing repeat prescriptions when at home.

Medicine doses can be omitted or delayed for a variety of reasons including patient refusal, medicine not available, route prescribed not available, patient asleep and intentionally withheld due to medical reasons. There are also known documentation issues where medication administration records are left blank.

To support organisations in their efforts to reduce the incidents of omitted medicine doses, a How to Guide has been produced, based on a resource developed by the Specialist Pharmacy Services in NHS England. 

A driver diagram (PDF) has been developed, describing our theory for change and highlights change ideas to help reduce the incidence of omitted medicines in care settings. This is a live document and would welcome your feedback. Please email the SPSP Medicines team at spsp-medicines.hcis@nhs.net with any suggested additions or amendments to support improvements across Scotland.
A number of boards in Scotland have already undertaken improvement initiatives to reduce omitted medicines, supported by algorithms, education sessions and policies.
NHS Greater Glasgow & Clyde
NHS Fife
NHS Lothian
 If you have resources that you would like to share please get in touch with the SPSP Medicines team at spsp-medicines.hcis@nhs.net