The Scottish Patient Safety Programme (SPSP) is part of Healthcare Improvement Scotland's Improvement Hub supporting improvement across health and social care. This is a unique national programme that aims to improve the safety of healthcare and reduce the level of harm experienced by people using healthcare services. SPSP aims to support National Health and Wellbeing Outcome 7: People using health and social care services are safe from harm. 
The aim of the Scottish Patient Safety Programme for Mental Health is People are and feel safe.
SPSP Mental Health is working the Scottish Government and partners to deliver the "Mental Health Strategy: 2017 - 2027"
Cultivating learning among those delivering and in receipt of care, and using that knowledge to improve safety are core values of the Scottish Patient Safety Programme for Mental Health (SPSP-MH). Through collaboration and innovation from staff, service users and carers and the use of quality improvement and improvement science over the last 6 years, we are now starting to see significant reductions in self harm, seclusion, violence and aggression, and restraint across a number of areas in Scotland.
The latest quarterly data is showing an increasing number of wards and units are showing improvements in rates of violence and restraint, seclusion and percentage of individuals self harming. There are examples of reductions in restraints of up to 60%, a 28% reduction in the percentage of patients who self-harm (overall reduction across 20/39 acute admission wards) and a reduction in the rates of violence of up to 80%.
Workstreams
Our work programme initially centred on five work-streams: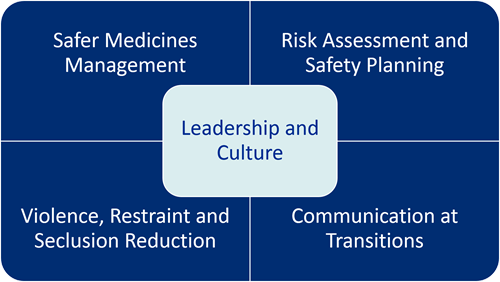 In late 2017 the programme expanded to include: 

It should be noted that these areas are not exclusive and should there be a particular area that would benefit from the application of quality improvement methodology to support harm reduction then this should also be considered, As such SPSP Mental Health is currently concentrating on Physical Health Collaborative with 3rd sector partners and Seclusion Review Collaborative with the Mental Welfare Commission for Scotland along with the above workstreams.
Human Rights Based Approach
Healthcare Improvement Scotland is the national organisation which drives improvements in the quality of healthcare people receive in Scotland. The SPSP Mental Health programme has undertaken a Human Rights Based Approach delivery and further details can be found here Please watch the below video to see the importance of undertaking a rights based approach to delivery.