Networking Events enable a group of people to come together with the main focus to provide an opportunity for networking, learning and sharing the successes and challenges which are being faced across Scotland. 
The Improving Observation Practice (IOP) Leads regularly meet with networking events. Flashreports for the most recent events are available below.
Learning Sessions are an opportunity for the programme to come together with the aim of capacity building and are based upon Quality Improvement techniques. The sessions disseminate new ways of working, have introduced techniques to monitor patient safety and allow for networking, thus encouraging the sharing of methods and initiatives to improve patient safety in mental health. Approximately 1500 delegates have attended the 5 national learning sessions with 1360 delegates attending the regional learning sessions.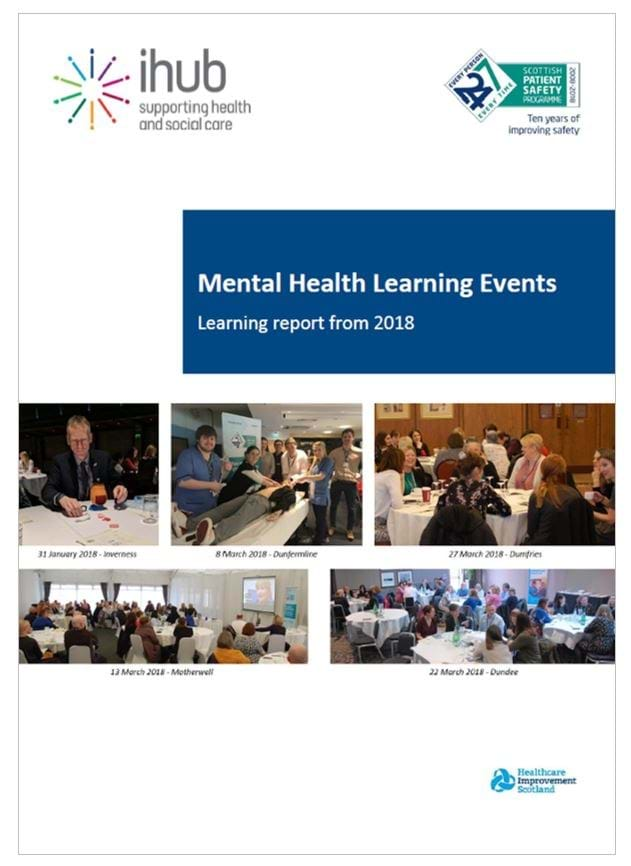 Regional Learning Sessions - January to March 2018, the fifth round of regional learning sessions for SPSP-MH included SPSP-IOP and focused on the local priorities and the work being undertaken by the participating NHS boards with the agendas being co-designed.
Browse the Learning Report from the five regional learning sessions here
Going Beyond Harm events were organised with Carers Trust Scotland and were aimed at carers of people (adults, children or young people) with mental health problems who have, or may have, used mental health services, such as inpatient services or community mental health service. 
The first event took place 31 August 2016 in Glasgow, following which we committed with Carers Trust Scotland, to hold regional versions of the event in remote and rural communities - Oban (26 June 2017), Dingwall (5 September 2017), Perth (24 October 2017) and Galashiels (5 February 2018).
The aims of these events were to capture the views and experiences of carers and professionals about mental health services and how their involvement in services can help to improve safety for service users, staff and carers within mental health services and, ultimately, share this learning with each other to support improvement and to engage with carers and professionals, supporting carers. 
 A report on each event was created, with a final report summarising the themes from discussions across the events in relation to improving mental health services for remote and rural areas.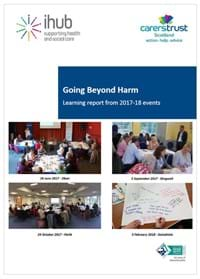 Dingwall 5 September 2017 Report
Galashiels 5 February 2018 Report
Going Beyond Harm - combined event report
Going Beyond Harm... Raise You Voice! 3 September 2018, Glasgow followed on from these events and was a call for service users, carers and staff to raise their voices and create meaningful partnerships across mental health services. The event focused on The Carers (Scotland) Act 2016, which came into effect 1 April 2018, and what it means for service users, carers and staff. 
Browse the evaluation report here
Child and Adolescent Mental Health Services (CAMHS) events have been co-hosted with the Mental Health Access Improvement Support Team (MHAIST). 
Development and Improvement Day for Child and Adolescent Mental Health Services, January 2017, aimed that delegates would have an increased understanding of how they can work at a local and national level, using quality improvement methods, to ensure CAMHS are Safe, Timely, Effective and person-Centred by drawing on support from each other, national teams and the ideas and innovations shared at this event. 
Browse the learning report here
In it together: Child and Adolescent Mental Health Services - building partnerships, November 2018, aimed that service users and carers are at the center of all CAMHS, practical examples of improvement projects from across Scotland and beyond were shared and celebrated, with networking across communities and increased knowledge and understanding of quality improvement methodologies.
Browse the flashreport here