Omitted Medicines     
Omitted medicines can have a significant impact on patients in terms of loss of therapeutic effect and risk of deterioration, particularly for 'critical medicines'. Opportunities for medicines to be omitted can occur at many stages of the medicines management pathway for a variety of reasons.
Medicine doses can be omitted or delayed for a variety of reasons including patient refusal, medicine not available, route prescribed not available, patient asleep and intentionally withheld due to medical reasons. There are also known documentation issues where medication administration records are left blank.
Omitted Medicines - a quality improvement approach
In 2018 SPSP Medicines worked in collaboration with Excellence in Care (EiC) to develop a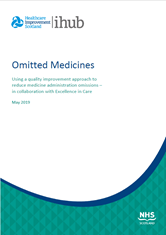 measure related to omitted medicines for consideration for inclusion in the EiC framework and to identify an appropriate recommended national aim for omitted medicines improvement work.
Measures were tested over a 12 month period by the EiC working group comprised of three boards;
NHS Greater Glasgow and Clyde
NHS Orkney
NHS Western Isles
The full report describing our quality improvement approach to reduce medicine administration omissions can be found here (May 2019). 
Data collection tools used in this work are listed below;
Other tools and resources
Local resources
A number of boards in Scotland have already undertaken improvement initiatives to reduce omitted medicines, supported by algorithms, education sessions and policies. Local board tools are found below.
NHS Greater Glasgow & Clyde
NHS Fife
NHS Lothian
 If you have resources that you would like to share please get in touch with the SPSP Medicines team at spsp-medicines.hcis@nhs.net