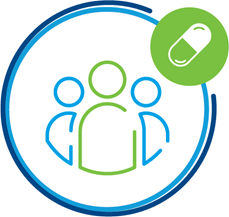 Pharmacotherapy Level 1 Collaborative
Supporting the development of QI Skills and improving GP practice processes to support the implementation of Pharmacotherapy Level 1 Services
The introduction of pharmacotherapy services within GP practices in Scotland is one of the priorities for the transformation of primary care. The ambition is that pharmacists, pharmacy technicians and assistants will be embedded members of the GP practice teams delivering core and additional elements of the pharmacotherapy service. This will allow GPs to spend more time with patients and focus their role on being expert medical generalists, as outlined in the 2018 General Medical Services contract in Scotland (GMS 2018).
The collaborative launched in November 2019 with a focus on acute/repeat prescribing and medicines reconciliation. 47 practices from 11 Health and Social Care Partnerships participated in the collaborative. The collaborative aimed to:
Manage correspondence in a safe and efficient manner.
Reduce the number of documents requiring GP involvement.
Release GP time to focus on their expert medical generalist role.
Ensure processes are in place so medicines related activity can be dealt with by the most appropriate member of the pharmacy team in a timely, safe and efficient way.
Support the development of practice staff roles.
Ensure multidisciplinary practice staff are further supported to develop and extend skills in fields such as QI clinical coding.
Due to the ongoing COVID-19 pandemic, the pharmacotherapy collaborative was placed in hibernation between March and August 2020.
Pharmacotherapy Collaborative: a focus on Serial Prescribing
In September 2020 we worked closely with our stakeholders to redesign our improvement support offer
Serial prescribing reduces general practice work load and unnecessary contacts whilst helping community pharmacy staff to manage their work more efficiently. It can also improve outcomes and the overall care experience for people, families and staff.  
In November 2020 the Pharmacotherapy Level 1 Collaborative was relaunched, with a revised focus on Serial Prescribing (part of the Medicines, Care and Review (MCR) service).
Collaborative teams are testing and developing a National Serial Prescribing Toolkit that supports general practice staff and pharmacy prescribing services teams to set-up and implement serial prescription services. The toolkit includes a combination of national MCR, ihub and locally produced resources.
To support implementation we will be providing practical and operational support including:
QI expertise to support teams with rapid testing of new resources
group support through virtual workshops, enabling networking opportunities
sharing the learning through a learning system and tailored webinars, and
one-to-one support to practices on request.
Once collaborate teams have completed testing, we plan to support the spread of the toolkit nationally from June 2021.
Key Dates
Monday 8 February 20221 - January data submission
Tuesday 9 February 2021 - Workshop, 10:00am - 12:00pm
Monday 8 March 2021 - February data submission
Tuesday 16 March 2021 - Final workshop, 10:00am - 12:00pm
Monday 5 April 2021 - March data submission
Follow us on Twitter
@SPSP_PC for the latest news and updates from the Primary Care Improvement Portfolio
@SPSPMedicines for the latest news specifically to do with safer medicines in Primary Care