SPSP Mental Health
The Scottish Patient Safety Programme (SPSP) is a national quality improvement programme that aims to improve the safety and reliability of care and reduce harm. 
Since the launch of SPSP mental health in 2012, the programme has worked to ensure people are and feel safe in adult mental health inpatient settings.
Underpinned by the robust application of quality improvement methodology SPSP mental health has brought about significant change in outcomes for people across Scotland.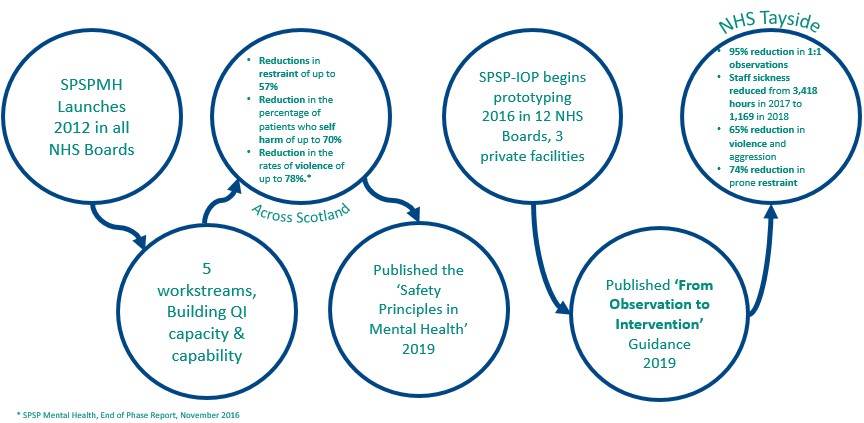 To support teams the SPSP mental health team will be offering a new 

improvement collaborative to take place in April 2022. We are  now accepting nominations from teams who would like to work with on the above. To learn more about this work click here. 
The aim of the SPSP Mental Health Programme is to reduce 

the level of harm experienced by people using healthcare services. To learn more about this work click here.
The Scottish Patient Safety Programme–Improving Observation Practice

(SPSP IOP) aims to extend and build on existing good practice in mental health services to provide an improved model of person-centred care that can be applied in any healthcare setting. To learn more about this work click here.

The Scottish Patient Safety Programme for Mental Health Learning System aims to accelerate the sharing of learning and improvement work across all care services and underpins all our activities. To learn more about this work click here.
Clozapine Handy Guide

The SPSP Mental Health team are piloting a handy guide for Clozapine. View the guide (PDF)

Patient Safety Climate Tool

NHS Boards across Scotland are using the Patient Safety Climate Tool with over 800 patients being given the opportunity to have a say about their care and treatment using this tool.

It is a Scottish innovation that is leading the way in person centred safe delivery of care.  The tool is designed to enquire about environmental, relational, medical and personal safety. Cultivating learning among those delivering and in receipt of care, and using that knowledge to improve safety are core values of the Scottish Patient Safety Programme (SPSP).

Patient Safety Climate Tool
Patient Safety Climate Tool - Guidance



Staff Safety Climate Survey and Analysis Tool

Organisations working to develop or improve a culture of safety need a reliable measure to monitor the success of their initiatives. Using a Safety Climate Survey developed for the SPSP Mental Health programme, teams can gain information about the perceptions of front-line clinical staff about safety in their clinical area and management's commitment to safety. 

Here is the SPSP-MH Staff Safety Climate Survey, Guidance and an Excel Analysis Tool which has dummy data entered to illustrate its functionality. Please download them for use within your teams, and let us know how you get on!

Carers Trust Scotland are the largest provider of comprehensive carers support services in Scotland, through a unique network of independent carers centres and young carers services (Network Partners) throughout Scotland.
They work with partners to improve support, services and recognition for carers in communities across Scotland.

---

Their aim is to improve the quality of life for anyone whose mental health problems or mental illness has a serious impact on their life and on the lives of others, including family members, friends and supporters. Support in Mind Scotland are known for their particular expertise in understanding schizophrenia and psychosis and the impact that this has on families and they actively campaign to challenge the stigma experienced specifically by people living with schizophrenia. 

---

Are a service-user led charity which acts as a collective advocacy voice for people with a lived experience of mental-ill health and their carers.

---

VOX is a National Mental Health Service User-Led organisation, working in partnership with mental health and related services to ensure that service users get every opportunity to contribute positively to changes in the services that serve them and wider society. VOX supports individuals and works with members to ensure that their views are listened to.  Mental health service user-led groups are also able to become members of VOX, thus ensuring that VOX represents a range of views and work together with groups who have a great deal of local or specialist knowledge and information. 

---

Acumen is an advocacy organisation that covers Argyll & Bute, East Renfrewshire, Inverclyde, Renfrewshire and West Dunbartonshire. Its philosophy is to maximise service users and carers involvement in all areas of service provision thus ensuring a quality of service is received which, in turn, improves the individuals' quality of life.

---

Bipolar Scotland is a membership-based voluntary sector organisation which provides information, support and advice for people affected by bipolar disorder / manic depression and those who care for them.

---

The Health Foundation is an independent charity working to improve the quality of healthcare in the UK by supporting people working in healthcare practice and policy to make lasting improvements to health services.  The Foundation's work is focused on two priority areas: Patient Safety and Person-Centred Care.  The Foundation carries out research and in-depth policy analysis, runs improvement programmes to put ideas into practice in the NHS, support and develops leaders and share evidence to encourage wider change.

---

HUG is a network of people with experience of mental health problems.  Their main aim is to improve the way in which users of mental health services are treated by campaigning to improve the rights, services and treatment of people with mental health problems, and to challenge stigma and discrimination.

---

The Institute for Healthcare Improvement (IHI), an independent not-for-profit organization based in Cambridge, Massachusetts, is a leading innovator, convener, partner, and driver of results in health and health care improvement worldwide.  IHI's work is focused in five key areas, one of which is Patient Safety.

---

LAMH is a charity and provider of a range of services to people with mental health difficulties. They develop and provide support services in partnership with people who experience mental health difficulties, their carers and other agencies. They also provide training to businesses around the mental health awareness information and how to support employees with mental health issues.

---

In Scotland the Mental Health Foundation focuses on social justice and inequality in mental health, raising awareness of mental health with the public and working in partnership with community organisations, policy makers and researchers. 
Their programmes link together policy, research evidence and practice, helping people and policy recognise the role mental health plays in life.

---

Protect and promote the human rights of people with mental illness, learning disabilities, dementia and related conditions. They carry out their statutory duties be focusing on five main areas of work which are - visiting people, monitoring the acts, investigations, information and advice, and influencing and changing.

---

NHS Education for Scotland are a special health board responsible for supporting NHS services in Scotland by developing and delivering education and training for those who work in NHSScotland, and have worked closely with Healthcare Improvement Scotland to develop a number of the tools used in the Scottish Patient Safety Programme.  

---

Dedicated to ensuring people in rural Scotland lead mentally healthy lives. The Forum has a broad membership from the public, private and third sectors.

---

SAMH is a charity that works to ensure that people are talking about mental health and this is done in the following four ways:
- Community based services for people with mental health problems
- National programmes
- Policy and campaigning work
- Raising funds to ensure that their work can continue.

---

See Me is Scotland's Programmed to tackle mental health stigma and discrimination.

---

User and Carer Involvement is a Scottish charity operating across the Dumfries and Galloway Region.  Their mission is to ensure that people who have mental illness, dementia or learning disabilities, and their carers have a representative voice and, as a result, see positive changes in their service provision. 

To contact the team for more information about the programme, events and resources contact our inbox at his.mhportfolio@nhs.scot.
Connect with us on twitter