Overnight support, (previously referred to as 'sleepovers') meets a range of needs for people who may need support, reassurance and practical help during the night time hours.
In 2016 Healthcare Improvement Scotland's Improvement Hub (ihub), was asked to develop an approach to support the redesign of overnight support.
There was a recognition that there may be better ways to enhance people's lives through new opportunities to support choice and control technological developments, whilst acknowledging that resources should be used more efficiently in the face of increasing staffing and costs.
Choice and control for those receiving care is central to Scottish Government Policy allowing people to make informed choices on what their support looks like and how it is delivered, making it possible to meet agreed personal outcomes.
The work of overnight support is an overarching presence across the range of programmes and workstreams the ihub focuses on. It empowers individuals from young to old to live the lives they want.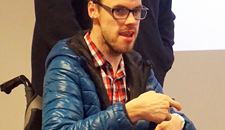 Robert's story
Read more about Robert's journey to a more independent lifestyle.
This work was done in collaboration and with support from across Scotland
Collaborative working at a national level between the ihub, Scottish Centre for Telehealth & Telecare with support from Alzheimer Scotland, Care Inspectorate, COSLA, NHS 24, Scottish Fire and Rescue Service, Scottish Government and Technology Enabled Care has been essential to ensure locally focused, well-connected support.