Reducing Reliance on Adult Mental Health Inpatient Care Pathfinder Programme
The programme is about designing pathways of care, ready for implementation, which provide adults with complex mental health needs equitable access to person centred recovery-led care in the right place at the right time. 
National Webinar Update from Thursday 9th September 2021
The event occurred with keynote speakers including Dr Alastair Cook and Ruth Glassborow. Learning output from the event can be downloaded here.
This document explores the key themes that emerged from attendees, what works well, enablers and barriers to change as well as what is next for the programme.
Next steps for the programme are outlined in the map below: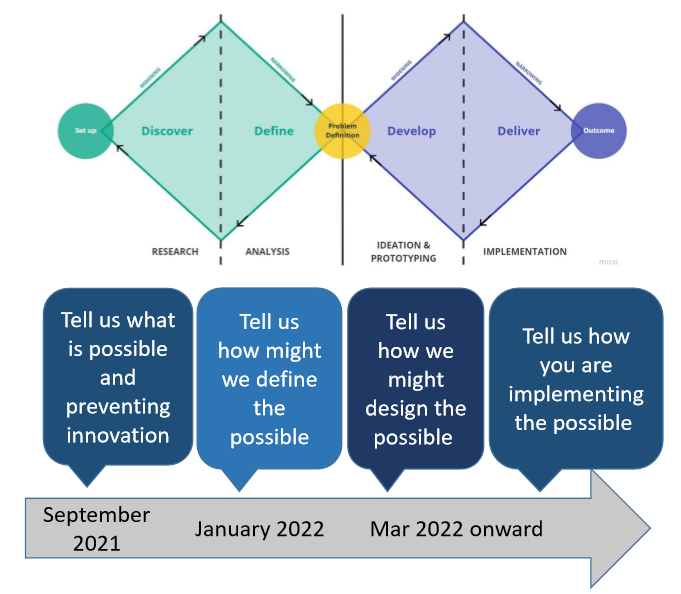 Why is this programme needed?
This programme is needed because: 
Inpatient bed numbers have reduced (increasingly during the pandemic) with high levels of inpatient occupancy, complexity and inequalities; 

The ongoing challenges to recruit and retain the mental health workforce are affecting service sustainability
What is the evidence saying?
Evidence indicates there are three strategic challenges and four key success factors to reducing reliance on adult mental health inpatients. 
Challenges: 
Continuity of care

 

Third sector and community involvement 

 

Governance arrangements and productive relationships between system partners

 
Success factors: 
Manage crisis and recovery in community

Access preventative support

 

Risk aware multi-agency working

 

High quality therapeutic relationships
Who are we working with? 
We are working with teams from NHS Borders, NHS Grampian and Edinburgh HSCP to develop innovative ways to respond to complex mental health needs in the community.  
Both are committed to: 
Working across boundaries 

 

Taking a risk aware multi-agency approach 

 

Taking a systems perspective to

 bridge boundaries 

between hospital and community, increasing continuity of care 

 

Increasing knowledge of service users and carers/families.
Learning and Resources 
This document supports the discovery stage and helps areas to find out where they are in their journey. It includes signposting to evidence summaries and national priorities map. 
Outlines broad strategic challenges in relation to mental health services.  
Outline of the strategic drivers of mental health improvement and current activity in this space. 
A review of literature and evidence centred on qualitative questions. 
Strategic Planning Good Practice Framework Self-Reflection Tool
Designed to allow Integration Authorities and Health Boards to consider their own approach to, and capacity for, strategic planning.
Contact us
To contact the team for more information about the programme, events and resources contact our inbox at: