Resources
The Good Practice Framework for Strategic Planning
' The Good Practice Framework for Strategic Planning ' has been developed by the ihub's strategic planning programme to give an overview of a robust approach to strategic planning for health and social care services.
Approaches to planning health and social care services in Scotland have evolved in recent years, building on the recommendations of the Christie Commission (2011) and the passing of the Public Bodies (Joint Working)(Scotland) Act 2014.
Strategic Planners within health and social care partnerships and NHS boards work within complex systems and a developing landscape, however there is a wealth of guidance, experience and examples of good practice within the health and social care system - which this framework attempts to draw together into one easily-understandable structure.
The framework is based on critical evaluation of a range of strategic documents produced by health and social care organisations across the country, and aligns with existing statutory guidance for the planning of health and social care services in Scotland. It is not presented as the singular model for strategic planning of health and social care services, accepting that local factors will influence the way that strategic planning is carried out from area to area. However, it is designed to be an example of best practice to be useful in all contexts.
The framework builds on the established strategic commissioning framework (analyse, plan, deliver and review), adding a further theme 'creating and sustaining the conditions for strategic planning'. Each section then identifies themed criteria and action areas which complete the sentence: 'Good strategic planning…'
A full copy of the Good Practice Framework is available in the downloads bar.
All Strategic Plans for health and social care are required to outline the contribution of the housing sector to achieving the National Health and Wellbeing Outcomes.  ihub's Place, Home and Housing portfolio supports improvements to strategic planning and housing services to provide people with a home environment that supports greater independence and improved health and well-being.  More information about the Place, Home and Housing portfolio is available at https://ihub.scot/improvement-programmes/place-home-and-housing/
Interconnected Systems Mapping
Interconnected Systems Mapping (ISM) delivers a visual overview of an integrated health, social care and community system for an identified population, using various lenses. The ISM maps are coproduced with the community, and health and social care organisations, and use quantitative and qualitative intelligence to offer insights into the interconnectedness of the system. These insights provide an understanding of the flow of demand on the health and social care system, indicate focus areas for further improvement work, and enable informed strategic decision-making.
A brief guide to Interconnected Systems Mapping is available in the downloads bar.
Developing a Coordinated Offer for Transformational Change across Health and Social Care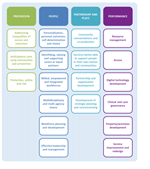 This review of the strategic environment of transformation was commissioned on behalf of the National Board Collaboration for Transformational Redesign. 
Involving desk-top research to analyse and synthesize over 120 published reports, strategies and policies, it identifies key transformation themes within the current plans of NHS Boards, Health and Social Care Partnerships (HSCPs) and national organisations. 
This is a valuable resource for all HSCPs and NHS Boards (particularly senior managers and those working in strategic planning roles) to help understand the strategic health and social care landscape.
Contact us at hcis.transformationalredesign@nhs.net for more information.