Integrated System Flow (Integrated System Mapping)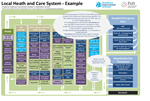 Interconnected Systems Mapping provides a high level strategic visual overview of an integrated health, social care and community system for an identified population, using various perspective lenses. The ISM maps are coproduced with the community, and health and social care organisations, and use quantitative and qualitative intelligence to offer new insights into the interconnectedness of the system. These can indicate focus areas for further improvement or redesign work, and enable informed strategic decision-making.
Developing a Coordinated Offer for Transformational Change across Health and Social Care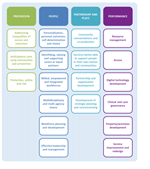 This review of the strategic environment of transformation was commissioned on behalf of the National Board Collaboration for Transformational Redesign. 
Involving desk-top research to analyse and synthesize over 120 published reports, strategies and policies, it identifies key transformation themes within the current plans of NHS Boards, Health and Social Care Partnerships (HSCPs) and national organisations. 
This is a valuable resource for all HSCPs and NHS Boards (particularly senior managers and those working in strategic planning roles) to help understand the strategic health and social care landscape.