Living and Dying Well with Frailty
March 2021 Update
This Living and Dying Well with Frailty Collaborative was hibernated in March 2020 when the ihubs resources were reprioritised due to COVID-19.
Frailty remains a key area of focus in the ihubs remobilisation. A Frailty Improvement Programme is being developed to support health and social care partnerships and NHS Boards improve outcomes for people with frailty.
Visit the Frailty Resources web page for tools and resources to improve outcomes for people with frailty.
The Collaborative
The collaborative was set up in 2019 to support HSCPs to improve how they identify and enable people aged 65 and over to live and die well with frailty in the community.
We worked with Health and social care partnerships and GP clusters to improve earlier identification, anticipatory care planning and shared decision-making, to ensure that people living with frailty get the support they need, at the right time, at the right place.
Starting in August 2019, GP practices and community teams focused on four drivers for change:
use the eFrailty Index through SPIRE to identify people aged 65 and over living with frailty
engage in anticipatory care planning conversations with these individuals and record the information in the Key Information Summary (KIS)
work within a multi-disciplinary team to consider the holistic needs of the person, and
use quality improvement methods to structure the work, including using data to learn how changes are being implemented and the impact they make.
Further information about collaborative can be found in the Collaborative Guidance document and Change Package.
Who we are working with
There are 21 teams, from across 19 health and social care partnerships, taking part in the collaborative.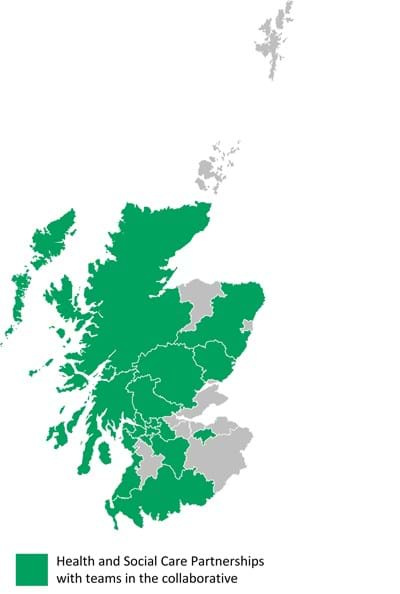 Health and Social Care Partnerships:
Aberdeenshire
Angus
Argyll and Bute
Clackmannanshire and Stirling
Dumfries and Galloway
East Dunbartonshire
East Renfrewshire
Glasgow City
Highland
Inverclyde
Midlothian
North Ayrshire*
North Lanarkshire
Perth and Kinross*
Renfrewshire
South Ayrshire
South Lanarkshire
West Dunbartonshire
Western Isles
*indicates when there are two teams from the HSCP.