Living and Dying Well with Frailty
Helping community teams to improve how they identify and support people aged 65 and over to live and die well with frailty in their community
The Living and Dying Well with Frailty collaborative is currently paused due to COVID-19. Please contact his.livingwell@nhs.scot for more information.
We are working with Health and social care partnerships and GP clusters through a national collaborative to improve earlier identification, anticipatory care planning and shared decision-making, to ensure that people living with frailty get the support they need, at the right time, at the right place.
By November 2020 the collaborative will:
reduce the rate of hospital bed days per 1,000 population for people aged 65 and over by 10%,
reduce the rate of unscheduled GP home visits per 1,000 population for people aged 65 and over by 10%, and
increase the percentage baseline of Key Information Summaries (KIS) for people living with frailty by 20%.
During the collaborative, GP practices and community teams will:
use the eFrailty Index through SPIRE to identify people aged 65 and over living with frailty
engage in anticipatory care planning conversations with these individuals and record the information in the Key Information Summary (KIS)
work within a multi-disciplinary team to consider the holistic needs of the person, and
use quality improvement methods to structure the work, including using data to learn how changes are being implemented and the impact they make.
Teams will be invited to work with us between August 2019 and November 2020 to improve the identification and support of people with frailty living in the community. Each team includes representation from a GP Cluster and Health and Social Care Partnership.
Who we are working with
There are 21 teams, from across 19 health and social care partnerships, taking part in the collaborative.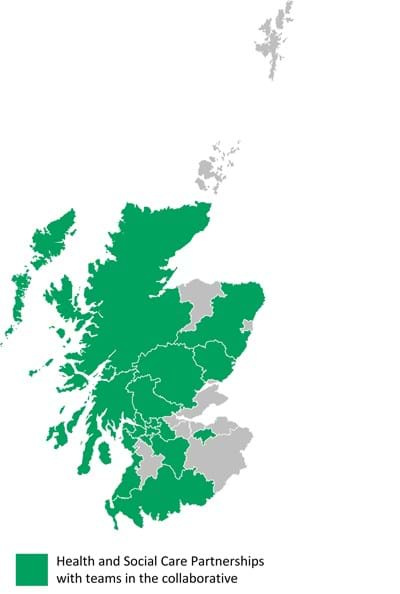 Health and Social Care Partnerships:
Aberdeenshire
Angus
Argyll and Bute
Clackmannanshire and Stirling
Dumfries and Galloway
East Dunbartonshire
East Renfrewshire
Glasgow City
Highland
Inverclyde
Midlothian
North Ayrshire*
North Lanarkshire
Perth and Kinross*
Renfrewshire
South Ayrshire
South Lanarkshire
West Dunbartonshire
Western Isles
*indicates when there are two teams from the HSCP.
Collaborative status
Collaborative teams have now been confirmed and are starting to work together to design and plan their change ideas. During the first stage of the collaborative, teams are implementing changes within at least two GP practices and community teams. Later on in the collaborative teams will increase the number of GP practices and community teams so that the work is spread across their GP cluster area. 
Resources
Please see our pages on the Electronic Frailty Index (eFI), People with Frailty, People nearing the end of their lives and Anticipatory Care Planning for key information and resources related to Living and Dying Well with Frailty.
Related programmes
Frailty at the Front Door is a further collaborative within the ihub that aims to address the needs of people living with frailty across their pathway of care. The aim of Frailty at the Front Door is to improve frailty identification and care coordination to deliver better experiences and outcomes for people with frailty who present to unscheduled care. Please contact the Acute Care team for further information.
Interested in this collaborative?
Contact the Living Well in Communities team to find out more.
Email: his.livingwell@nhs.scot
Twitter: @LWiC_QI