The Scottish Patient Safety Programme (SPSP) was shortlisted for the prestigious Patient Safety Team of the Year Award at the Patient Safety Congress in Manchester, which took place on 9 July 2018.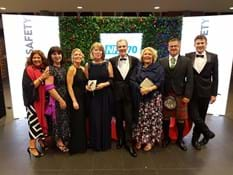 The award recognises a team which has supported truly outstanding improvements in patient safety through specific initiatives, which SPSP can demonstrate in all areas of its work.
SPSP is a unique national initiative that aims to improve the safety and reliability of healthcare and reduce harm, whenever care is delivered. From an initial focus on acute hospitals, SPSP has grown in 10 years to cover patient safety work in Maternity and Children, Medicines, Mental Health and in Primary Care.
Joanne Matthews, Head of Improvement and Safety said:
"We were delighted to have been shortlisted for this award in the year where we are making our 10th anniversary. Being shortlisted is recognition for my team members, everyone who has worked in patient safety in Scotland and reflects their hard work and dedication.
Members of the SPSP team attending the Patient Safety Congress are pictured on the right.
For more information about the SPSP Programmes please visit: https://ihub.scot/spsp/
For more information about #SPSP10 please visit: https://ihub.scot/spsp10/