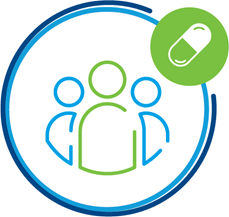 Pharmacotherapy Level 1 Collaborative
Helping to support the development of staff quality improvement (QI) skills and improve GP practice processes to support the implementation of Pharmacotherapy Level 1 Services within GP practice teams.
The introduction of pharmacotherapy services within GP practices in Scotland is one of the priorities for the transformation of primary care over the next three years. By 2021 pharmacists, pharmacy technicians and assistants will be embedded members of the GP practice teams delivering core and additional elements of the pharmacotherapy service. This is to allow GP's to spend more time with patients and refocus their role on being expert medical generalists as outlined in the 2018 General Medical Services contract in Scotland (GMS 2018).
We are working with Health and Social Care Partnerships (HSCP) through a National collaborative to support the development of practice administrative and pharmacy teams to improve GP practice processes, by adopting and adapting the learning and resources developed in the Practice Administrative Staff Collaborative (PASC) Phase 1.
We will be working with these HSCP between November 2019 and October 2020 to help improve the overall outcomes and care experience in primary care for people, families and staff.
The focus for implementing Pharmacotherapy Level 1 services will be on performing the selected tasks below:
Acute/repeat prescribing
Medicines Reconciliation
It is anticipated that this collaborative will:
manage correspondence in a safe and efficient manner
reduce the number of documents requiring GP involvement
release GP time to focus on their expert medical generalist role
ensure processes are in place so medicines related activity can be dealt with by the most appropriate member of the pharmacy team in a timely, safe and efficient way
support the development of practice staff roles
ensure multidisciplinary practice staff are further supported to develop and extend skills in fields such as QI clinical coding
Who are we working with?
We are working with over 50 practices, from across 11 HSCPs for this collaborative, which are listed below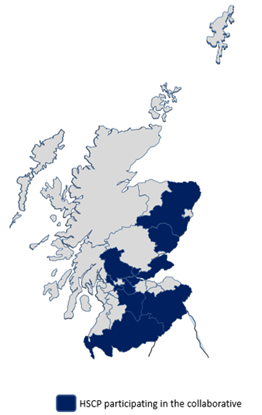 Aberdeenshire
Angus
Borders
Clackmannanshire and Stirling and Falkirk (Joint Application)
Dumfries and Galloway
Fife
Glasgow
North and South Lanarkshire (Joint Application)
West Dunbartonshire
Pharmacotherapy WebEx
Further to our first WebEx on the 26th November, the recording for this can be found by clicking the link below:
- Pharmacotherapy WebEx Recording
A copy of the Q&A that were produced at the WebEx can be found here.
Key dates
Key Dates
 
WebEx

Tuesday 26 November 2019, 10:00 - 11:00am

Learning Session 1

Thursday 30 January 2020

Crowne Plaza, Glasgow, 9:30am - 4:30pm

WebEx

Tuesday 10 March 2020, 10:00 - 11:00am

Learning Session 2
TBC**
WebEx

Tuesday 25 August 2020, 10:00 - 11:00am

WebEx

Tuesday 22 September 2020, 10:00 - 11:00am

Celebratory Event

Tuesday 24 November 2020

9:30am - 4:30pm
** it is anticipated that this will be either 9th or 10th June 2020
Keep in touch
Follow the pharmacotherapy level 1 collaborative conversation on twitter:
@SPSP_PC and tweet us using the #pharmaL1