Stage 3: Refining aim and change theory 
The project team should use the learning from understanding the current system to refine the project aim. When refining the aim, you should consider what "better" would look like and what parts of the current job planning processes may be a higher priority requiring change first.
Ideally the aim will become more specific but it could also change the timescale and/or the numeric element of the aim too.  Any changes should be updated in the project charter.
3.1 Driver Diagram  
The driver diagram below outlines the change theory that will help the project team achieve the aim.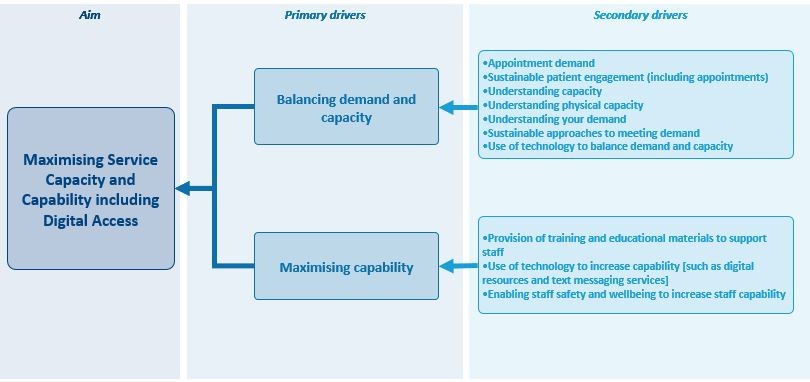 The project team can customise the driver diagram to your service by adding your aim and adding additional secondary drivers that are specific to your service. More information on driver diagrams can be found on the QI zone.
3.2 Measurement Plan
Measurement will help you determine if the changes you have made to your system are having the impact outlined in the driver diagram. The Maximising Service Capacity and Capability measurement plan specifies the measures to use whilst implementing changes. This should provide some helpful examples of measures you could use however, please note that this is not an exhaustive and your chosen measures will vary depending on what changes you chose to test. The data collection template will help you collect and present data as run charts. 
The measurement plan has three types of measures:
Process measures relate to the primary drivers of the driver diagram and demonstrate if the changes you make are starting to change how your system works.
Outcome measures relate to the aim to demonstrate the impact of your changes. 
Balancing measures are used to determine if your changes are having an impact elsewhere in your system.
More information about run charts and using measurement for improvement can be found in the QI Zone.