Quality improvement tools and resources to sustainably and affordably reduce waiting times.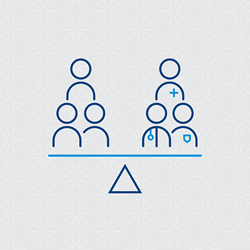 Reducing waiting times has been a key priority for NHS Scotland for over a decade, typically waiting times initiatives have been used to reduce the backlog of patients waiting for planned care. This toolkit has been developed, using learning from across Scotland, to support NHS boards in taking a quality improvement (QI) approach to sustainably reduce waiting times.
Planned care services can reduce the time patients wait by improving their pathways to balance the workload associated with referrals to the demand for care.
By using this toolkit, planned care teams will be able to:
establish an effective project team to test and implement changes
identify the constraints in their pathway contributing to the longest waits
understand service user needs
use learning from others to increase the pace of change, and
use data to demonstrate a sustainable improvement has occurred.
How to use the toolkit
This toolkit has been developed to align to the improvement journey.
To start your own access improvement journey, follow each stage in order. You may need to revisit a step as you build new knowledge and learn more about your pathway.
Project planning and management
Understanding you system
Develop aim and change theory
Develop specific change ideas, test and refine
Implement and sustain where tested
Sharing learning
Throughout this toolkit all links have been highlighted in blue with templates and Access QI examples found in the sidebar for easy access. 
To start your own improvement journey to improve your planned care pathways, click on Stage 1: Project planning and management and work your way through each stage. 
We welcome your feedback to allow us to continually refine and improve this toolkit.  You can provide feedback by emailing us at his.accessqi@nhs.scot.