Understanding your system 
Now that you have established your improvement team and ways of working, the next step will be to understand your current system. This could be an exercise looking at flow through an already identified pathway, or several pathways within a service to prioritise your improvement efforts. Understanding your system is an essential step, a thorough diagnostic will highlight constraints, bottlenecks and waste across your pathway. Information gathered, will also support engagement with key stakeholders to build the will and further highlight the need for change.
This section focusses on outlining practical tools that will help you to understand your system from a wide range of perspectives.
Map out existing pathways
Before you begin the process of improving your service it is important to fully map out the existing pathways and processes. This will give you a good indication of the level of change required but also show up some bottlenecks and delays that were maybe not already apparent. There are a number of tools that can support this.
Pathway mapping should be facilitated by the project team with the identified stakeholders. This will ensure any outputs reflect the views of all.
A process map is a really simple approach to collaboratively visualise the flow of work through the pathway.
The last 10 patients tool uses clinical notes to identify variation in journey times, helping you to understand what is happening in the pathway and how this can vary from patient to patient. A case study can be seen in the sidebar menu.
This Last 10 patients exercise was a validation of where we felt the pressure points were (across the pathway)" Improvement Advisor, NHS Lothian
Service user and provider experience
Before you design a mechanism for capturing service user/provider experience and insights consider the use of models already in place.
Care opinion - are there any comments and insights that can be gained for reviewing care opinion? There may be some areas for improvement identified that can support the improvement of your service.
Complaints - are there themes evident from complaints made by service users? Can you use these to influence the re-deign of your service?
Significant clinical incident reviews - are there actions for the service from SCI reviews? Identify actions that will result in improved flow, communication and overall patient experience and include these in your project plan. Be sure to engage with the identified lead(s) for any actions.
A simple way of understanding staff experience is to look at the teams most recent iMatter results. This may give useful insights into areas of concern as well as good practice that can be explored and replicated.
To understand more specific opinions and insights that a more bespoke approach will be required. This may include observations, interviews, focus groups or other feedback mechanisms.
Healthcare Improvement Scotland Community Engagement provides a range of tools that support services to engage with people and communities. Their participation toolkit includes some well-known methods for example; focus groups, one-to-one interviews.
The Care Experience Improvement Model (CEIM) is a simple framework that supports health and social care teams to make improvements that are directly related to feedback in a person-centred way.
By taking this conversational approach, teams can reliably develop, embed and maintain a process and culture to systematically identify and make meaningful improvements.
NHS Tayside's Gynaecology services engaged with patients to understand the issues and challenges surrounding access to the post-menopausal bleeding pathway. The feedback validated the thoughts and concerns of the staff working across the pathway and allowed the buy in to go ahead and test a one stop clinic. 
sadly I need to come back again, which I am not happy about. I feel it could all have been done today" Patient, NHS Tayside
Following implementation of the one stop clinic, all patients said that the care and treatment given at their appointment was excellent.
It was a relief getting the treatment all in one day. Everyone was so kind. I also enjoyed the cups of tea" Patient, NHS Tayside
Measuring system flow
When seeking to improve flow it is important to continuously analyse data on demand, capacity, activity and queues.
Demand is all the work that is entering the system
Capacity is how much work could be done considering all of the resources needed
Activity is the actual work done, it is the throughput of the system
Queue is the work that has not been done – the backlog or waiting list
This information will help identify variation in the system and allow teams to focus in on their problem area(s).
The demand and capacity guide will provide information on how to outline a process for demand and capacity modelling. This will allow you to carry out an initial analysis, and how you can develop measures for longer term quality control.
A capacity calculator is a simple tool that helps you to understand the time you have available for your main work activity, e.g. seeing patients or managing a service. It is an excel spreadsheet that calculates this for you if you enter the time spent on various activities.
The below chart is a simplified illustration of how demand and capacity interact with one another and with the queue. In this system capacity is sufficient to meet demand, and the queue never builds to uncontrollable levels even during periods of peak demand: the system is in balance. Real-world systems can be more complex and much larger, making DCAQ analysis critical to understanding and improving access to services.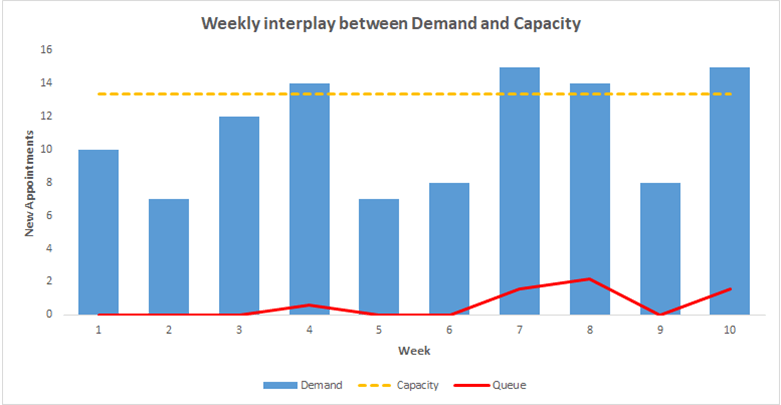 Figure 1: DCAQ example
Pareto chart is a type of bar chart in which the factors that contribute to an overall effect are arranged in order from most frequent to least.  This ordering helps identify the "vital few" — the factors that warrant the most attention.
Cause and Effect is a diagram-based technique that helps the team to identify all of the likely causes of the problems you're facing.
Force Field Analysis is a method for listing, discussing, and assessing the various forces for and against a proposed change. Force Field Analysis provides a structured approach to decision making which helps teams to consider the forces that are driving the change and those that resist the change.