Evaluating patients experiences of remote outpatient clinics during COVID-19
At Queen Elizabeth University Hospital in Glasgow, the outpatient Respiratory service adopted new processes during the COVID-19 pandemic to ensure that patients with the greatest clinical need could still be assessed. The new pathway included telephone consultation appointments for some patients. In order to evaluate this change, the Respiratory team invited patients who received telephone appointments to provide feedback on the experience through either a telephone or online survey.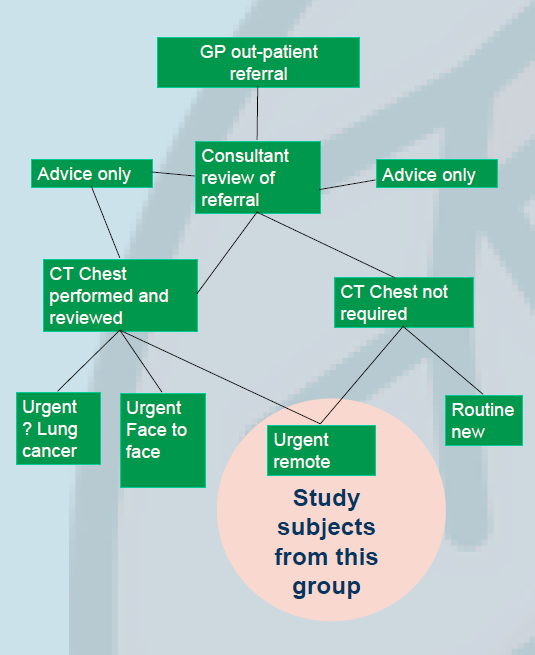 Conducting a patient survey
Patients who received telephone consultations with the Respiratory service between June and November of 2020 were sent a letter inviting them to access the survey via Webropol. Then, staff made a follow-up call to patients two weeks later to assist them in completing the survey. 42 patients ended up taking the survey. Two patients completed the survey online, while the other 40 were conducted over the phone and transcribed into Webropol for analysis.
Survey results and outcomes
Patients reported high satisfaction with outpatient telephone consultations. 85% said that the quality of the phone consultation was either the same as or better than the quality of a face-to-face appointment, and 78% felt that their phone appointment was just the right length. The Respiratory team feel these results support the continuation of telephone consultations. They have continued to invite all new patients receiving telephone appointments to complete survey. You can view a poster about their work here.
Survey questions with results:
Question

n

Minimum Value

Maximum Value

Mean ± SD

Median

Overall, how satisfied were you with the consultation offered

42

2 (2.4%)

10 (66.7%)

9.1 ±1.7

10

Did you feel you were treated with courtesy and respect

42

8 (7.1%)

10 (88.1%)

9.8 ± 0.6

10

Did you feel throughout the consultation that the doctor listened carefully

42

1 (2.4%)

35 (83.3%)

9.3 ± 2.1

10

During the consultation, did you feel able to express your thoughts and concerns

42

1 (4.8%)

10 (75.2%)

9.1 ± 2.3

10

When considering the length of the consultation, was the time available

- too short (1)

- about the right length (5)

- too long (10)

40

1 (5.0%)

9 (2.5%)

4.8 ± 1.4

5

Did you feel that medical terms, investigations and treatments were explained to you in a way you could understand

42

1 (4.8%)

10 (85.7%)

9.4 ± 2.1

10

If you were offered a time consultation, was there a delay between the planned time and when you were actually contacted

38

1 (7.9%)

10 (63.2%)

8.5 ± 2.7

10

If you received written information before your appointment, how satisfied were you with it

38

1 (7.9%)

10 (55.3%)

8.6 ± 2.5

10

At the end of the consultation, were you happy you knew what would happen next

42

1 (4.8%)

10 (76.2%)

9.2 ± 2.2

10

If you have attended the department for a "face to face" appointment in the past, how did this compare

- much worse (0)

- about the same (5)

- much better (10)

33

0 (3.0%)

10 (24.2%)

6.1 ± 2.8

5