Reducing the number of appointments with Active Clinical Referral Triage (ACRT)
Managing a long post-COVID waiting list 
NHS Dumfries and Galloway's Musculoskeletal (MSK) Occupational Therapy (OT) Hand Clinic had paused non-essential services due to the COVID-19 pandemic, resulting in increased patient wait times. Before beginning this project, all patients needing input from the MSK OT service were placed on the same waiting list and offered an appointment. As of September 2021, 43% of their waiting list (128 patients) consisted of patients with three common conditions: carpal tunnel, trigger finger, and De Quervain's tenosynovitis. These patients were waiting approximately 20 weeks to be seen. The Hand Clinic staff set out to reduce these waiting times, support patients to self-manage their conditions, and improve patient outcomes. 
Developing and testing a change idea 
Instead of offering every patient on the waiting list an appointment, the team decided to initiate Active Clinical Referral Triage (ACRT) for the 128 patients with these conditions. ACRT involves a more thorough clinical review of a patient's recent history before offering an appointment. This approach can reduce the number of face-to-face appointments, as many patients can be managed without attending the clinic. The Hand Clinic team developed a patient letter for each of the three conditions. Each letter included materials about how to self-manage their condition, recommendations to follow self-management advice for six weeks, advice to make an appointment if their symptoms remained or worsened, and a code to set up a Patient Initiated Return (PIR) if necessary. Using PIR reduces unnecessary review appointments and allows patients to request a review when and if they feel they need one.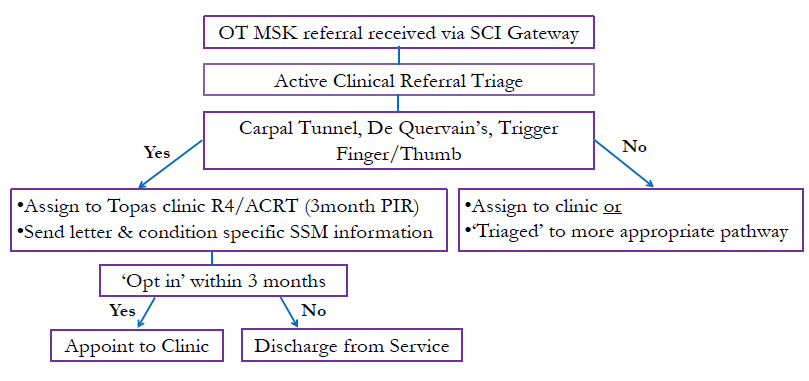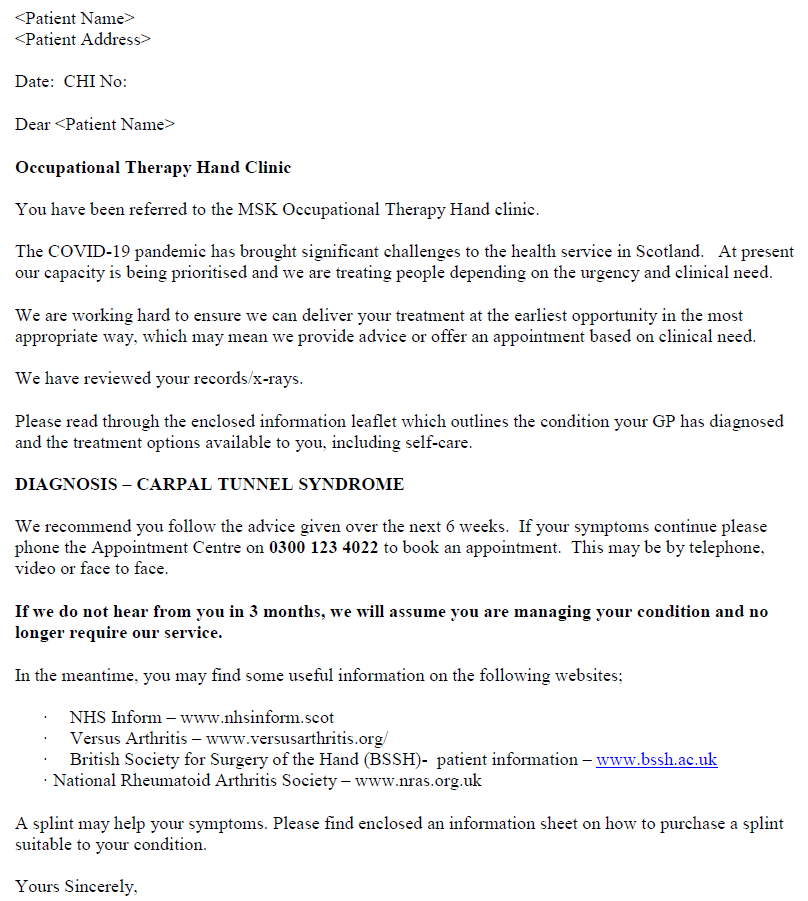 Benefits of the change 
The Hand Clinic found the ACRT process to have several benefits. It enabled and empowered patients to make well-informed decisions and actively manage their own health. It also meant that many patients were reviewed earlier. Earlier intervention for MSK conditions means better patient outcomes, fewer appointments, and a reduction in more intense interventions. Additionally, commencing ACRT did not require any additional resources, such as time, staffing, or increased costs.   
Outcomes 
When ACRT was introduced in October 2021, 82 patients were initially sent information about self-management. Since then, the service has continued to adhere to this process. To date, 134 patients have received self-management information, and 107 of these patients have not requested an appointment with the clinic. So far, only 27 patients (20%) have initiated a PIR. Anecdotal evidence from patients has been positive so far, and the service plans to gather more patient feedback on the change soon. They are also planning to commence ACRT for referrals for osteoarthritis in the hands and will share their work with other MSK services. Click here to view the musculoskeletal team's poster.