Team Service Planning: Sustainably managing clinical capacity to meet demand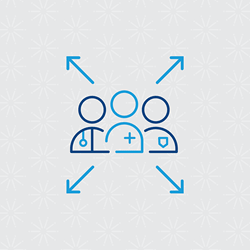 Team Service Planning is a multidisciplinary approach to defining, developing and delivering clinical capacity within an elective care service to contribute towards reducing waiting times.  It was developed by NHS Lanarkshire's Breast Service as part of the Scottish Access Collaborative.  Team Service Planning enabled NHS Lanarkshire's Breast Service to reduce new referral appointment waits to 7-10 days, repatriated Plastics Service from a neighbouring Board and sustainably see 7,000 new referrals a year without requiring additional capacity.
This change package has been developed in collaboration with the Scottish Access Collaborative to support NHS boards use their quality improvement (QI) expertise to implement Team Service Planning. By using this change package, teams will be able to: 
establish an effective service development team,

 

use learning from other teams to increase the pace of change,

 

 

use data to inform improvement and refine changes, and

 

use data to demonstrate that an improvement has occurred.

 
Using this change package
This change package is based on the improvement journey. To start your own improvement journey using QI to implement Team Service Planning click on Stage 1: Building your service development team and work your way through each stage. 
People with advanced QI expertise may wish to go directly to the resources in the side bar.
We want your feedback to help us continually refine and improve this change package.  If you have learning using this change package or other feedback please get in touch through the feedback form or by emailing us at his.accessqi@nhs.scot.